The Candyman Strings & Things ~ Santa Fe & Los Alamos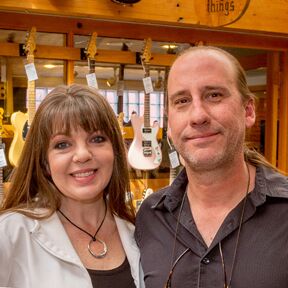 The NM Music Commission Foundation is pleased to present the 2019 Lee Berk Foundation Award to Rand and Cindy Cook, owners of the Candyman Strings and Things, celebrating 50 years of serving New Mexico's musicians and music students.
The Candyman Strings & Things is New Mexico's premier full-line music store that serves families to professional musicians, and everyone in between. Winning the prestigious NAMM Dealer of the Year Award in 2014, The Candyman also offers an instrument rental program as well as repair and commercial sound installation services in their Santa Fe and Los Alamos stores.
In 1969 the store's founder Matthew Schwartzman opened a small acoustic guitar shop in downtown Santa Fe. The store expanded to include large home theater equipment, electronics, recorded music and musical instruments. The original store had a major fire in the 1990's, which then led to the store's current location on St. Michael's Drive.
Beyond selling musical instruments, Candyman has several innovative programs that promote the benefits of playing music. Their annual "Wanna Play" initiative invites non-musicians to the store to have hands-on experiences with musical instruments, to unlock their inner talents. Their "Summer Rock Camp" puts kids age 8-18 into real-life band situations. During this 2-week program, the participants learn to play in a band, record at a studio, visit radio stations and perform in a live concert. It is a truly life-changing experience for many of these kids.
above: video biopic short about Candyman and owners Cindy and Rand Cook – premiered August 23, 2019 at the Platinum Music Awards show – created by Bunee Tomlinson of Windswept Media.
No copyright is claimed in the above creative examples and to the extent that material may appear to be infringed, the New Mexico Music Commission asserts that such alleged infringement is permissible under fair use principles in U.S. copyright laws. If you believe these materials have been used in an unauthorized manner, please contact us.