Hummingbird Music Camp ~ Jemez Springs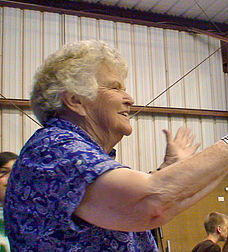 Founded in 1959 by the legendary Kenneth Lloyd Higgins and his wife Wanda, Hummingbird Music Camp gives children ages 8 through 14 an opportunity to experience band, guitar, orchestra, piano, and voice with musical direction provided for all levels of players. Today, the camp is operated by Higgins children Les Higgins, Sally Chapman, and Teena King.
Nestled by the Jemez River in the Jemez Mountains of New Mexico, Hummingbird Music Camp offers every child an opportunity to grow as an individual, a team player, and as a fine musician under the guidance of a talented and nurturing staff. Hummingbird Music Camp provides a home away from home for children to express themselves and their talents.
Although music is taken very seriously at the camp, the focus is not on competition. The children are encouraged to grow musically on their chosen instruments by starting their musical instruction at their current level of ability. Campers get to show their parents how much they've learned and grown when they perform on the Sunday afternoon concert.
Watching children's musical talents and personalities blossom at Hummingbird was one of Kenneth Lloyd Higgins' greatest joys, and in fulfillment of his dream the hills surrounding Hummingbird Music Camp are alive with music.
The New Mexico Music Commission and Foundation extend their sincere condolences to the Higgins Family for the passing of Wanda in May of 2018. Wanda was a beloved and highly respected matriarch of New Mexico's music community. She is dearly missed.
above: Hummingbird's video biopic filmed and edited by Bunee Tomlinson of Windswept Media and produced by the New Mexico Music Commission Foundation. The video was premiered at the 2018 Platinum Music Awards show, Lensic Performing Arts Center.
for more information: www.hummingbirdmusiccamp.org
source: www.hummingbirdmusiccamp.org
No copyright is claimed in the above creative examples and to the extent that material may appear to be infringed, the New Mexico Music Commission asserts that such alleged infringement is permissible under fair use principles in U.S. copyright laws. If you believe these materials have been used in an unauthorized manner, please contact us.