Cármelo de los Santos ~ Albuquerque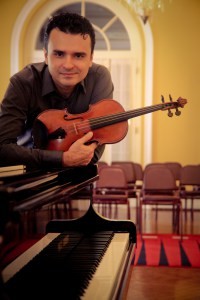 Brazilian-born violinist, Cármelo de los Santos, is Professor of Violin at the University of New Mexico, Albuquerque, where he lives with his wife Eugenia and son Arthur. He enjoys an exciting career as a soloist, chamber musician, and pedagogue. From his extensive concerto appearances to his recent performances of the 24 Caprices by Paganini, his virtuosity and musical commitment captivate audiences worldwide.
At the age of sixteen Cármelo gained celebrity status in Brazil by winning its most prestigious music competition, the Eldorado Prize, in São Paulo. Since then he has been a guest soloist with more than 40 orchestras, including the New World Symphony, Santa Fe Pro-Musica, the Santa Fe, and New Mexico Symphonies, the Montevideo Philarmonic, Orchestra Musica d'Oltreoceano (Rome), and the major orchestras in Brazil. Cármelo has collaborated with renowned conductors Michael Tilson Thomas, Alejandro Posada, Jean-Jaques Werner, Guillermo Figueroa, Eric Shumsky, Rodolfo Saglimbeni, Yeruham Scharovsky, Jorge Pérez-Gómez, Roberto Tibiriçá, and Jean Reis, among others.
In 2002 Cármelo made his New York debut as soloist and conductor in the Weill Recital Hall at Carnegie Hall with the ARCO Chamber Orchestra.
Cármelo has won prizes in several international competitions, including the first prize at the 4th Júlio Cardona International String Competition (Portugal), first prize at the Music Teachers National Association (MTNA) Collegiate Artist Competition (USA), and second prize in the Young Artist International Competition (Argentina).
With pianist Carla McElhaney and cellist Joel Becktell, Cármelo has formed the group REVEL, a "classical band" based in Austin. The group believes that music is a transformative tool best shared in informal, intimate settings. They present events that they refer to as "revels," in which audience members enjoy the music on a "first-name" basis. The group performs masterworks for duos and piano trio, and also arranges modern and popular works in a signature style that has become a mainstay of their repertoire.
Cármelo's commitment to young musicians brings him to music festivals and master classes throughout the world. In his native Brazil, he enjoys working with at-risk students from social programs similar to Venezuela's famous El Sistema.
Cármelo holds a Bachelor's degree from Rio Grande do Sul Federal University, Brazil, a Master's degree from the Manhattan School of Music, and a Doctoral degree from the University of Georgia. His teachers were Fredi Gerling, Marcello Guerchfeld, Sylvia Rosenberg, and Levon Ambartsumian. As a student, he performed in master classes and had consultations with Isaac Stern, Boris Belkin, Eugene Fodor, and Shlomo Mintz, and numerous others.
Cármelo's 2009 CD release, Sonatas Brasileiras, presents sonatas by Villa-Lobos, Guarnieri, and Santoro (UFRGS Label) and received that year's Açorianos Prize (Brazil) for best Classical CD, along with the year's Best Classical Performer prize. The CD "Magic Hour" with REVEL – works for piano trio by Beethoven, Piazzolla, and Kenji Bunch, plus original arrangements by the group – was released in 2012 and can be purchased at www.revelmusic.org.
Two CDs released in 2013: "Brazilian Violin Showpieces" – short pieces for violin and piano by Brazilian composers, with pianist Ney Fialkow; and "French Composers," with the Sonata for Violin and Piano by Debussy, and Ernest Chausson's Concerto for Violin, Piano, and String Quartet, recorded live at the 2012 Bonneville Chamber Music Festival.
Highlights of Cármelo's recent work are a DVD recording of the 24 Caprices by Paganini and an invitation to judge the 1st Art Center Tokyo International Violin Competition in Kobe, Japan.
Cármelo plays on a Carl Becker violin, 1929.
above: Cármelo de los Santos performing the Korngold Violin Concerto Op. 35 (I. Moderato nobile; II. Romance – Andante; III. Finale – Allegro assai vivace), with the Porto Alegre Symphony Orchestra, Valentina Peleggi, conductor, at the Theatro São Pedro, Porto Alegre, Brazil, on June 23, 2015.
for more information: carmelodelossantos.com
source: carmelodelossantos.com