Robertson & Sons Violin Shop ~ Albuquerque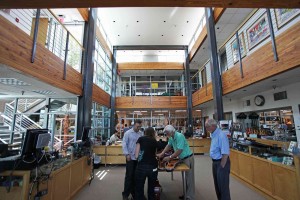 One of the largest and most reputable violin dealers in the United States, Robertson & Sons has specialized in providing the highest quality stringed instruments and bows to collectors, professional musicians, music educators, and students of all ages for over four decades. Their modern facility is equipped with three instrument showrooms as well as a beautiful Recital Hall that is made available to clients to help them in their search for the perfect instrument and/or bow.
Areas of Specialization
Dealer of Rare and Contemporary Instruments and Bows
World Class Restoration and Repair Department
Valuations and Certificates of Authenticity
Instruments and Bows Sent Out On Approval
Extensive Sheet Music Library
Nationwide Rental Program
Robertson's is located in Albuquerque, New Mexico.  They have a strong tradition of integrity and friendly and dedicated service. Their travels have taken them around the globe in search of the finest quality instruments and bows to ensure their clients have the best selection possible.
Clients from around the world come to Robertson's for their expertise in string instrument repair and sales.
Don and Marie Robertson, owners, are active in the state's music community. Marie conducts and teaches with the Albuquerque Youth Symphony Program and Don was a music teacher in the Albuquerque Public Schools prior to opening the violin shop. Robertson's gives graciously to the state's music community through donations, instruments, sponsorship, advertising, and music, as well as service.
above: Robertson & Sons Violin Shop's video tour of their world class facility in Albuquerque.
for more information: robertsonviolins.com
source: robertsonviolins.com
No copyright is claimed in the above creative examples and to the extent that material may appear to be infringed, the New Mexico Music Commission asserts that such alleged infringement is permissible under fair use principles in U.S. copyright laws. If you believe these materials have been used in an unauthorized manner, please contact us.