Pimentel & Sons Guitar Makers ~ Albuquerque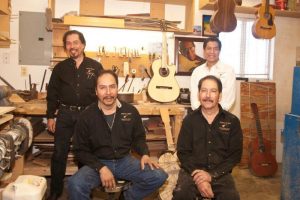 At the age of 14, Lorenzo Pimentel began apprenticing at his brothers' guitar-making shop in Mexico. His passion for the craft helped him advance quickly, and soon after he was building guitars on his own.  At the age of 23, he came to the United States where he began making guitars in a violin store.  In 1951, he moved to Carlsbad, where he opened his own shop.  It wasn't long before he'd mastered creating exquisite classical guitars.  Four of his sons each embraced his legacy, and four decades later, the family name is known around the world as the best guitar makers alive.  They're the only ones who make each instrument completely by hand, tailored specifically to each customer.
The Pimentel brothers can't imagine doing anything else.  Their expertise, perfectionism and love of the art have made guitar making their calling.  They are Rick Pimentel, now President of Pimentel Guitars, specializing in Acoustic guitars; Robert Pimentel, Vice President, specializing in Concert Classical guitars; Victor Pimentel and Agustin Pimentel.  They have each inherited their father's incredible talent and raised it to a whole new level, creating guitars unparalleled in craftsmanship and beauty.
Awards
Innovative Albuquerque Award
February, 2008
Hispanic Heritage Month Distinguished Honor
September, 2005
Recognition from the Diocese of Las Cruces Foundation and Las Cruces Mariachi
November, 2001
Acoustic Guitar Players' Choice Award
June, 2000
The Governor's Awards for Excellence and Achievement in the Arts
October, 1994
The Blue Chip Initiative
May, 1993
The Smithsonian Institute's 12th Annual Festival of American Folklife
October, 1978
above: Made In New Mexico host, Nikki, heads over to Pimentel and Sons Guitar Makers in Albuquerque to find out about the customized personal process that goes into making the one of a kind guitars. Learn about the family legacy and all that is offered at the shop itself. Thank you to KRQE Television for this wonderful video segment featuring the Pimentel family.
for more information: www.pimentelguitars.com
No copyright is claimed in the above creative examples and to the extent that material may appear to be infringed, the New Mexico Music Commission asserts that such alleged infringement is permissible under fair use principles in U.S. copyright laws. If you believe these materials have been used in an unauthorized manner, please contact us.