Norman Petty Studios ~ Clovis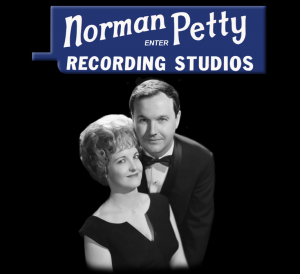 Despite the success with his own records, Norman Petty is most famous for his recording studio in Clovis, New Mexico. In his homespun studio, he produced successful singles for his own musical group and for Texas musicians Roy Orbison, Buddy Knox, Waylon Jennings, Charlie "Sugartime" Phillips, Sonny West, Carolyn Hester, Terry Noland, Jimmy & Cliff Blakley, and Buddy Holly. "Sugar Shack" and "Bottle of Wine" by Jimmy Gilmer and the Fireballs and "Wheels" by the String-A-Longs were recorded at Petty's studio. Petty produced a number of Canadian groups including Wes Dakus & the Rebels, Barry Allen, Gainsborough Gallery, and the Happy Feeling; all which had chart success in their homeland. Throughout the 1950s and 1960s, Petty had productions on virtually every major record label in the United States and Canada with numerous regional successes, and of various musical styles.
Petty served as Buddy Holly's recording engineer and also as his first manager until late 1958. Many of Holly's best and most polished efforts were produced at the Clovis studio. After Holly's death, Petty was put in charge of overdubbing unfinished Holly recordings and demos. Petty was hired because he had access to the local musicians that Holly had worked with over the course of his short career, most of whom would not be able to spend time in a professional studio in New York City.
In 1963, Petty launched the FM radio station KTQM next to the recording studio; he added the AM station KWKA in 1971. Petty ran both stations until 1979, when they were sold to their current owner. Petty was posthumously named Clovis Citizen Of The Year in 1984.
Norman Petty died in Lubbock, Texas, in August 1984 of leukemia. His wife Vi died in March 1992. The original 7th Street Studio is available for tours by appointment only. Vi Petty helped start the "Norman & Vi Petty Music Festival" in Clovis, New Mexico, in 1987. It featured many artists that recorded at the studios as well as popular hitmakers. The event halted in 2002, later to be revived as "The Clovis Music Festival" which is currently held in September.
Norman & Vi were given "Outstanding Graduate Accomplishment" awards (Class of '45 & '46 respectively) by the Clovis Municipal Schools Foundation and Alumni Association in April 2011. The awards go to Clovis High School graduates based on achievement in their realm of business. Graduates are chosen because their strengths of character and citizenship serve as models to inspire and challenge today's CHS students. The plaques were given to Vi's relative Nick Brady who turned them over to Kenneth Broad of the Petty Estate to display during studio tours.
2014 saw the release of The King Of Clovis, a book about Petty by Frank Blanas. A documentary is also in the works from the Super Oldies label.
There are numerous videos and documentaries about the studio, its famous recording artists, and the Petty's. Here is just one such video produced by The Clovis Music Festival.
above:  The "Clovis Sound" made popular by such greats as Buddy Holly and Roy Orbison, was created and recorded in Clovis at the Norman Petty 7th Street Studio. Video produced by The Clovis Music Festival.
for more information: pettystudios
source: wikipedia.org
No copyright is claimed in the above creative examples and to the extent that material may appear to be infringed, the New Mexico Music Commission asserts that such alleged infringement is permissible under fair use principles in U.S. copyright laws. If you believe these materials have been used in an unauthorized manner, please contact us.