Music Commissioner Dennis "Jir" Anderson Jr.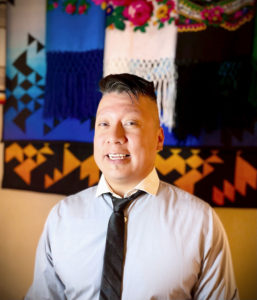 Music Background
Awards & Nominations: North American Indigenous Music Awards Recipient, New Mexico Music Awards – nominated
Festivals & Special Events: SWAIA Santa Fe Indian Market, Gathering of Nations Pow Wow, Indigenous Comic Con, Native Guitars Tour (Austin, Vegas, Denver, Los Angeles, Phoenix), Talking Stick Film Festival, Dulce Youth Festival, Pueblo Film Festival
Radio & TV: KUNM Singing Wire, 89.9 KANW, 101.1 Santa Fe, Taos Radio, 94 Rock, PBS, Indigenous Foundation, Native America Calling, Rockwired.com, Albuquerque Journal, Weekly Alibi, Navajo Times, Indian Country Today,
New Mexico Venues: Marble Brewery, Launchpad, El Rey Theater, Lizard Tail, The Grill, Rio Bravo Brewery, Blue Heron Brewery, Low Spirits, Burt's Tiki Lounge, Tractor Brewing Company, Sunshine Theater, Route 66 Casino, Isleta Casino, Santa Ana Star Casino, Sky City Casino, Dancing Eagle Casino, Cities of Gold Casino, Buffalo Thunder Casino, Tamaya Resort,  Santa Fe Plaza, Albuquerque Old town Plaza, Grants Main street Festivals, New Mexico State Fair, Pueblo Harvest Indian Pueblo Cultural Center, Hispanic Cultural Center, Kiva Auditorium, The Pit UNM Arena, Belen Summer Series, The Palace Santa Fe, Boxcar, El Paseo, Evangelos, Skylight, Taos Mesa Brewing
Administrative Background
Founder: Native Guitars Tour
Team Lead: AMRI Complex Science Solutions
Hometown
Cochiti Pueblo, Sandoval County
Residence
Northwest Albuquerque, Bernalillo County
Appointment
5 August 2020 by Governor Lujan Grisham
Commission Term
5 August 2020 ~ 5 August 2023
Committees
County Liaison

Bio
Jir Anderson is from the Pueblos of Cochiti and San Felipe. As a singer, songwriter, and guitarist, he brings over 30 years of experience as a professional contemporary musician. Jir's musical journey began at the age of 13 when he constructed a guitar from the family coffee table, which has since led him to extensive musical opportunities all over the world. In 2006, the Jir Project band came together with the intent of bringing contemporary native rock to the mainstream music scene. Jir Project has three Albums entitled, "Keep it Flowin", "Sun Child" which was awarded Best Blues Album in 2011 by the North American Indigenous Image Awards, and an EP entitled "The Pueblo", which was nominated in 2017 for the New Mexico Music Awards. 
In 2007, Jir founded Native Guitars Tour, an organization dedicated to providing a stage for Native America with a mission to advocate for Native Artists and Musicians as they follow their creative passions. Over the years, Native Guitars Tour has grown into a movement representing many talented Native faces throughout North America working hand-in-hand to create musical opportunities and bring resources together across the country. Native Guitars Tour has showcased Indigenous talent at various festivals and events including SXSW, House of Blues, SWAIA Santa Fe Indian Market, Gathering of Nations Pow Wow, Indigenous Comic Con, Talking Stick Film Festival, Dulce Youth Festival and many more. As Native Guitars Tour continues to grow, its intent has expanded its focus on supporting the development of Native American youth artists and musicians, hoping to inspire and promote the musical and artistic passions of our future generations. 
When Jir is not performing with Jir Project or working on Native Guitars Tour initiatives, he is tending to his day job at AMRI Complex Science Solutions, a global contract research and manufacturing organization, where he is a supervisor and team lead on many biopharmaceutical projects that produce products to help increase the quality of life and save lives around the world. On his days off, Jir enjoys spending time with his wife and kids enjoying nature, traveling, or helping out in the community.
Creative Examples
These examples cite Anderson's work as a music industry professional in the private sector.
Native Guitars Tour
Jir Project
2018 promotional video for Native Guitars Tour – providing a stage for Native America.
Jir says he wrote this song in 15 minutes on the back of a plain ticket with a sharpie in some airport back in 2016.
The Jir Project Band plays their original song "The Pueblo" at Boxcar in Santa Fe, New Mexico on Saturday, May 21, 2016.
No copyright is claimed in the above creative examples and to the extent that material may appear to be infringed, the New Mexico Music Commission asserts that such alleged infringement is permissible under fair use principles in U.S. copyright laws. If you believe these materials have been used in an unauthorized manner, please contact us.