Music Commissioner Juan C. "Buddy" Abeyta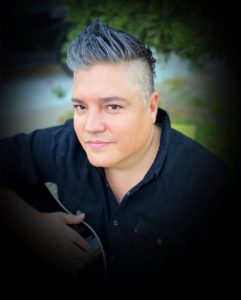 Music Background
Sol Fire band performing original music that fuses rock with pop, R&B and Latin influences
Buddy & the Lush band
Administrative Background
Strategic Operations Manager: Assistant Speaker of the House Ben Ray Lujan New Mexico 3rd Congressional District 2015-present, duties include advising on Music and Arts Legislation, as well as meeting with local and national music advocacy groups
Education
MBA Human Resources Management
New Mexico Highlands University 2018
BBA Organizational Leadership
Anderson School of Management
University of New Mexico 2015
Hometown
Santa Fe, Santa Fe County
Residence
Albuquerque, Mossman uptown district, Bernalillo County
Appointment
5 August 2020 by Governor Lujan Grisham
Term
5 August 2020 ~ 5 August 2023
Committees
County Liaison
Bio
Buddy Abeyta, with his brother Amado Abeyta are founding members of Sol Fire and 7th generation New Mexicans. They are known for their original music, a unique sound that fuses rock with pop, R&B and Latin influences. The sons of local music legend Chris Abeyta, a mainstay of the Santa Fe music scene, they plan to keep the flame burning for many generations to come.
After playing in local bands for many years on the Santa Fe scene, including Buddy & The Lush, the brothers formed Sol Fire in 2002. Two years later, they entered the studio and released their debut album, "Self Titled."
Since then, Sol Fire has become a household name in Santa Fe and New Mexico.
In the summer of 2006, Sol Fire released their second studio album, "Third Floor Serenade." The buzz around their second release took Sol Fire to new heights when they were chosen as only one of three bands to be showcased in the New Mexico Lottery Powerball commercials and ad campaigns. They were also the only band chosen to produce two commercials, one in English and one in Spanish, proving that their music can reach a diverse audience.
In 2007, their original song, "She's Got," was chosen for the national compilation album "The After After Party" sponsored by McDonald's and Coca-Cola. Sol Fire also co-wrote and produced music for United Way of Central New Mexico's ad campaign. In addition, many of their songs have been used in ads for the City of Santa Fe, local films, and national streaming playlists.

Sol Fire has also been honored with many other great opportunities, including opening for Ozomatli, English Beat (who are some of the brothers' personal heroes), Yerba Buena, The Iguanas, Groupo Fantasma, Paul Rodriguez, Quetzal, and Los Lobos.
Ten days before the 2008 election, Sol Fire sang the national anthem and performed an acoustic set before George Lopez and then Presidential candidate Barack Obama who spoke at a rally in Albuquerque, N.M., with over 45,000 people in attendance. They have also opened speaking engagements for Former President Bill Clinton on two different occasions.
Their original sound has taken the band to a variety of venues, such as performing the National Anthem at the University of New Mexico Pit, The John Steinbeck Center, St. Mary's University, Tingley Coliseum, headlining the Santa Fe Fiesta's street dance, and headlining the burning of Zozobra multiple times with crowds of 40,000 plus. They are a mainstay for the tree lighting on the Santa Fe Plaza, the 4th of July, and play up to 150 shows a year as a duo and band.

Being able to share their music with so many different people has been Sol Fire's greatest honor. Through the success that they have gained in New Mexico, the brothers of Sol Fire have proven their dedication to their music by self-producing all of their albums. Their latest EP was released last year and is getting airplay on several local radio stations. The EP's first single is "Sophies Song." An ode to his daughter and Autism Awareness. The full album will be released in early 2021 via all major streaming services as well as vinyl.
Creative Examples
These examples cite Abeyta's work as a music industry professional in the private sector.
Social media
Performance
Sol Fire performing Change Love for Me live at the Institute of American Indian Arts (IAIA) Music Festival (c) 2019.

Sol Fire: Archival footage of Sol Fire performing at the Santa Fe Bandstand on the Santa Fe Plaza (c) 2012.
No copyright is claimed in the above materials and to the extent that material may appear to be infringed, the New Mexico Music Commission asserts that such alleged infringement is permissible under fair use principles in U.S. copyright laws. If you believe these materials have been used in an unauthorized manner, please contact us.