Music Commissioner Mary E. "Busy" McCarroll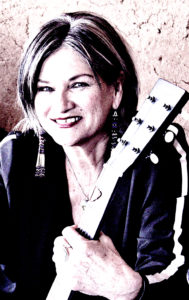 Music Background
Over 40 years' experience in the music industry. Highlights include:
Band Leader and Lead Vocalist: BUSY y Los Big Deals, a 4/5 piece jazz/pop band (2005-present)
Performer: The High Hippy Associates, a 4 piece vocal group (2019 to present)
Performer: The Queen and I, an acoustic Trio with Bella Gigante & Mikey Baker (2018-2020)
Previous Band Leader and Vocalist: Southwest Wind, CROWSFEET, Busy & The Bodies, MV2=The Motion, SOULed Out, The BeatNik Spy Music Files, Ambassadors of Pleasure, Crazy 88
Albums: 1. MV2 = The Motion A New Mexico Christmas, 2. Sugar Kisses Bar'Bar'Ella ~ The Beatnik Spy Music Files, 3. Tall Girl Tales, 4. A New Mexico Christmas, 5. Nutcracker N2K; Currently working on a new studio CD co-produced by Busy, Baird Banner, and New Mexico music legend, keyboardist/producer, Kevin Zoernig
Studio Vocalist / Vocal Arranger: lead and harmony on over 100 recordings
Instructor: Thunderstorm Singing/Songwriting Club at Turquoise Trail Elementary Charter School
Music Director: Phame Inc. music productions for adults with mental and physical disabilities
Private Vocal Coach
Radio host: KSFR / SFCC and KVSF Radio Free Santa Fe/Hutton Broadcasting
Resident Narrator / Vocalist: National Dance Institute (NDI)
Songwriter: Exclusive contract with North Star Media in Los Angeles
Awards: 1. Best Album – CD titled 'Bar'Bar'Ella ~ The Beatnik Spy Music Files'; 2. Best Song by NM Music Awards – 'Peace by Piece' theme song for the Film 'Peace by Piece'; 3. Best Jazz – 'VAGINA' written for Eve Ensler's VAGINA Monologues; 4. Best Song – 'Love'; 5. Best R & B – 'The Motion'; 6. ASCAP Special Honor Award (2 years in a row); 7. Winner of New Mexico State Song 'O' Fair New Mexico' contest
Administrative Background
President: Santa Fe Music Alliance; Applied for and received a May 2020 grant for the purpose of gifting $200 to twenty five Santa Fe Musicians in need due to lost work from Covid
Producer: MAKE MUSIC SANTA FE an annual all ages, free music event which takes place on the same day in over 800 cities worldwide
Producer: numerous New Mexico music events to help raise funds and awareness for musicians in need
Co-owner and Manager: Kludgit Sound Recording Studio
Board Member: Santa Fe Arts in Education Initiative (SFAEI)
Task Force Member: Arts, Culture & Entertainment (ACE)
Commissioner: New Mexico Music Commission
Education
Santa Fe Community College
Self-taught musician with a little help and inspiration from fellow musician friends
Hometown
Torrance, California
Residence
Cerrillos, Santa Fe County
Appointment
5 August 2020 by Governor Lujan Grisham
Term
5 August 2020 ~ 5 August 2023
Committees
County Liaison

Bio
Busy McCarroll Music is Trippy Drippy Surf sounds with a Silky Spy Soundtrack twist. It's Sade meets Cheryl Crow with a splash of Nancy Sinatra, a sprinkle of Julie London, and a dash of Tom Waits.
Creative Examples
These examples cite McCarroll's work as a music industry professional in the private sector.
Social Media
Performance
Busy singing her original tune Hope and Toilet Paper, May 2020 (c) Busy McCarroll
New Mexico state song O' Fair New Mexico with Lori Ottino on Melodica and harmony vocals. They performed this version for the 2014 burning of Zozobra before a crowd of 40,000 people and recorded the video shortly thereafter.
Crazy88 performing Lighten Up at The Outpost Performance Space 19th Annual Summer Thursday Jazz Nights 18 June 2014.
No copyright is claimed in the above creative examples and to the extent that material may appear to be infringed, the New Mexico Music Commission asserts that such alleged infringement is permissible under fair use principles in U.S. copyright laws. If you believe these materials have been used in an unauthorized manner, please contact us.