Music Commissioner Neil G. Swapp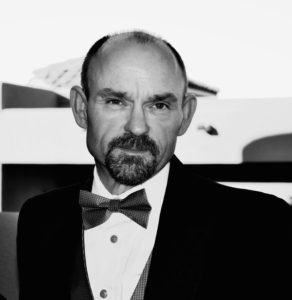 Music Background
Adjunct Assistant Professor: Western New Mexico University
Director of Bands: Mayfield High School, Las Cruces Public Schools; participation in London New Year's Parade ('11), Macy's Thanksgiving Parade ('04), Tournament of Roses Parade ('00); Grand Prize and top awards at marching, concert, and jazz competitions through the country; consistent Superior ratings at large group festivals
Director of Bands: Cibola High School, Albuquerque Public Schools
Co-Conductor: New Mexico Music Educators Honor Orchestra
Brass Coach: Albuquerque Youth Symphony Program
Adjudicator: throughout New Mexico, Texas, Arizona, Missouri, and Kentucky
Clinician: Albuquerque Youth Symphony Program and with high schools in Albuquerque, Aztec, Estancia, Las Cruces, and Rio Rancho
Marching Band Drill Writer: Cibola High School-Albuquerque, Gadsden High School-Anthony, and Mayfield High School-Las Cruces
Professional Achievements: Las Cruces Public Schools Teacher of the Year Runner-up; New Mexico Music Educators Association Educator of the Year Nominee
Administrative Background
Executive Director (current), Past-President, Past-Vice-President of Bands: New Mexico Music Educators Association

Music Department Chair
: New Mexico School for the Arts
Co-Founder and President: 
Southwest Music Academy
Vice President and Secretary: Southwest New Mexico Music Educators Association
Vice President: Central New Mexico Music Educators Association
Committees with Las Cruces Public Schools: Curriculum and Scheduling; Music Advocacy and Public School Music; Curriculum and Student Success; High School Design
Workshop Presenter: "Designing a Successful Marching Show" and "Successful High School Bands" New Mexico Music Educators All-State Convention
Organizations: Music Educators National Conference; National Association for Music Education; New Mexico Music Educators Association; National Association of Secondary School Principals; International Trumpet Guild; Texas Music Educators Association; International Association of Jazz Educators; New Mexico Association of Jazz Educator
Education
Administrative Licensure Program
New Mexico State University 2006
MM Trumpet Performance
St. Louis Conservatory of Music 1989
BME Music Education
New Mexico State University 1987
Hometown
Luna, Catron County
Residence
Silver City, Grant County
Appointment
5 August 2020 by Governor Lujan Grisham
Term
5 August 2020 ~ 6 May 2022
Committees
County Liaison

Special Projects
Bio
A native of New Mexico, Neil Swapp grew up in Luna and graduated from Reserve High School after which he received a Music Education Degree from New Mexico State University and a Master's Degree in Trumpet Performance from the St. Louis Conservatory of Music. While at New Mexico State University, he was winner of both the NMSU Symphonic Winds and Las Cruces Symphony Concerto Competitions. He also held the position of principle trumpet in the Las Cruces Symphony.
After the completion of his degree he returned to New Mexico to begin his teaching career. Neil spent 7 years as Director of Bands at Cibola High School in Albuquerque and 17 years as Director of Bands at Mayfield High School in Las Cruces followed by 4 years as the Chair of the Music Department at New Mexico School for the Arts.
Under his leadership, his ensembles have been recognized throughout the state and nation for their superior performance level by winning numerous competitions and festivals including an unprecedented 7 State Marching Championships. During his tenure, the Mayfield High School Band was a regular finalist at Bands of America Regionals. His Ensembles have also participation in the Macy's Thanksgiving Day Parade and the Pasadena Tournament of Roses Parade as well as international performances in England and China. Additionally, ensembles under his directorship were chosen numerous times as featured honor ensembles by the New Mexico Music Educators Association.
Currently he serves as the Executive Director of the New Mexico Music Educators Association as well as being on the music faculty at Western New Mexico University. He is also a regular guest clinician and conductor throughout the state and region. Furthermore, he serves on numerous state councils and committees including the New Mexico Music Commission, New Mexico Advisory Council on Arts Education, New Mexico Activities Association Activities Council, and the New Mexico Music Educators Association's Music Education Task Force. Neil also judges music competitions throughout the Southwest.
Neil is also co-founder of the Southwest Music Academy, an organization located in Las Cruces that offers out of school supplemental music instruction to elementary, middle school and high school students. He continues to serve on the board as President.
Neil currently resides in Silver City, New Mexico.
Creative Examples
These examples cite Swapp's work as a music industry professional in the private sector.
Social Media
New Mexico Music Educators Association
video examples coming soon
No copyright is claimed in the above creative examples and to the extent that material may appear to be infringed, the New Mexico Music Commission asserts that such alleged infringement is permissible under fair use principles in U.S. copyright laws. If you believe these materials have been used in an unauthorized manner, please contact us.