New Mexico Music Commission's Student Musician Spotlight
Featured Student: Morgan Settecerri ~ Albuquerque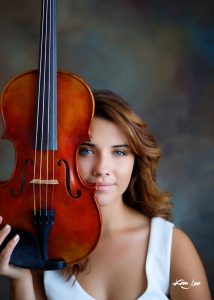 Morgan Settecerri is the May 2018 featured student in the New Mexico Music Commission's Student Musician Spotlight series.
Morgan is a senior at La Cueva High School. She started playing violin in January 2009 under Jane Soyka. With Jane, Morgan has studied the Suzuki Method. This gave Morgan the opportunity to participate in the Suzuki Summer Camp where she was put into her first orchestra. By the time Morgan was in the sixth-grade, she had been playing violin for two years, thus making her eligible to play in Madison Middle Schools' Advanced Orchestra under the direction of Emily Awes.
In addition, Morgan teaches beginner violinists, plays on a club soccer team, has a job and helps run the La Cueva orchestra program as a student aide. Ms. Settecerri completely overhauled the orchestra music library, ran a concert for Mrs. Simons while her husband was in the hospital, and has frequently been in several leadership roles at La Cueva.
After middle school, Morgan has had the honor of playing in both groups at La Cueva High School– String Orchestra and Camerata, both under the direction of Rebecca Simons. In Morgan's junior year, she auditioned for Camerata and made it in the second violin section. That same year, La Cueva Camerata was chosen as the NMMEA Honor Orchestra. After the 2016-2017 school year, the La Cueva Orchestra was in need of viola players for Camerata. Morgan took this opportunity to pick up the viola and successfully transition during her final year of high school. Morgan was voted Co-President of the La Cueva Orchestra Program for the 2017-2018 school year. This year she is mentoring her fellow students to keep the program running smoothly for years to come.
Morgan was nominated by Rebecca Simons, Director of Orchestras at La Cueva High School. Ms. Simons says of Morgan, "Morgan is a true leader. She is always aware of the group more than herself and is kind, understanding and generous to everyone. She is mature beyond her years and works very hard. She is a tremendous communicator and is very organized. She is a fine violin and viola player and volunteered to play viola when we needed more violas and less violins. Morgan is the president of the orchestra program at La Cueva. She has also been a section leader and officer. She is a member of the Music Honor Society, has a job, manages the boys soccer team and also plays on a club soccer team. She is in the top 1% of best students I have ever had the pleasure of teaching. Morgan is a joy and very deserving of this award."
Morgan is extremely humbled by this recognition and is grateful to all those who have supported her throughout the years, particularly her parents, private teacher Jane Soyka, and her orchestra director, Rebecca Simons.
Congratulations, Morgan, for being selected as the Music Commission's May2018 student musician! In addition to being inducted into the student spotlight, Morgan will be featured on the Music Commission's Facebook page and will receive an official certificate of recognition from the State.
Click here for information about the Student Musician Spotlight.
above: Morgan Settecerri performing Sicilienne by M.T. von Paradis at the 2017 fall studio recital of Jane Soyka.
note: Morgan's biographical information, image, and video are used with written permission of her parents.