New Mexico Music Commission's Student Musician Spotlight
Featured Student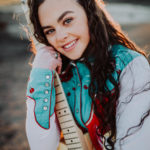 17-year-old Chevel Shepherd stands as living proof that big things sometimes come in small packages. Chevel won America's hearts, and the title of "Season 15 Winner" during her epic run on NBC's The Voice, under the guidance of American Idol winner Kelly Clarkson. Chevel aspires to follow in the footsteps of Mrs. Clarkson, working to emerge as a major recording artist and actress in her own right. She was raised on country music and the outdoors in her hometown of Farmington. Learn more about Chevel.
About the Student Musician Spotlight
The New Mexico Music Commission's Student Musician Spotlight series was established in 2017 to honor the achievements of our state's talented and dedicated student musicians. Selected students are awarded a certificate of recognition signed by Governor Lujan Grisham and Department of Cultural Affairs Secretary Garcia y Griego. Students also receive gift certificates from our generous Student Spotlight sponsors, Robertson & Sons Violin Shop and The Candyman Strings & Things. In addition, selected students are inducted into the showcase section of our website and featured on our Facebook page.
Pianist Kayden Kelly was selected as the featured Student Musician Spotlight artist at the Music Commission's 2019 Platinum Music Awards show.
Eligibility
Eligible students must be 18 years of age or younger, at time of recognition, and demonstrate the following qualities:
outstanding character
positive attitude
exceptional respect for their family, peers, mentors, teachers, and elders
extraordinary dedication to the study and performance of their musical instrument(s)/voice.
This recognition is open to student instrumentalists, singers, composers, arrangers, and singer-songwriters. All musical styles and genres are welcome. Character and integrity are equally important as talent, playing ability, and dedication to music.
An individual shall be ruled ineligible to be featured in the Student Musician Spotlight if they are related to a New Mexico Music Commissioner or an employee of New Mexico Arts.
Nomination Process
Nominations are accepted year-round and on an ongoing basis. A new student will be featured no more than once a month during the traditional academic school year (September to May) and dependent on the number of eligible nominations received. The same student may only be featured once per academic school year. Students may not nominate themselves. The music commission is not obligated to feature a student every month during the school year.
The nominator is responsible for contacting the student's parent/guardian to inform them they will need to provide the Music Commission with a head shot, bio, and performance video should their child be selected. The parent/guardian is required to sign and submit a media release form granting the New Mexico Music Commission permission to publicly display these materials. We cannot feature a student without these items. See Acceptance section below for details.
To nominate a student musician, fill out a nomination form and provide all required documentation as specified in the guidelines section of the form. The nominator's statement must be formatted for 8½ x 11 sized paper with portrait orientation.
Guidelines
The following materials are required with each nomination – incomplete nominations will not be considered:
A completed nomination form.
A nominator's statement (approximately 250 words) that includes the nominator's relationship to the student and why the student merits receiving this recognition. The statement must be formatted for 8 1/2 x 11 paper, portrait orientation.
parent/guardian agreement to publicly display their child's image and to provide the requested materials outlined in the acceptance section, below.
All nomination materials will remain on permanent file in the Music Commission office and will not be returned.
Acceptance
Upon acceptance, the nominator and the student's parent/guardian will be contacted. The parent/guardian is responsible for promptly submitting the following materials on behalf of their child. The nominator is responsible for facilitating parent/guardian submission of these materials. We cannot feature the student without these four items:
head shot taken within the past six months, avoid full length shots, .jpg format, 6 x 4.5 inches (15 x 11 cm) print size, 479 minimum pixels on shortest side, 1280 x 960 optimum resolution
bio approximately 500 words that includes information such as, but not limited to: current age, grade, school attending, classroom music teacher(s), private teacher, how many years student has studied music, recent accolades (academic, athletic, music-related, etc.), honor groups, leadership positions, hobbies, future interests/college major, etc.
video of the student performing solo or with accompaniment lasting approximately 3-5 minutes, posted on YouTube or Vimeo
parent/guardian release form granting the New Mexico Music Commission rights and permission to publicly display the above materials.
These materials will be displayed on the New Mexico Music Commission's web site, promoted on the commission's Facebook page, and used in marketing/promotion. Materials will remain on permanent file in the Music Commission office and will not be returned.
Only nominations accepted into the student spotlight series will be contacted. Check the list of student honorees monthly for updates. Nominations not featured in the series may reapply the following calendar year. The same student may be nominated no more than one time per calendar year and repeatedly until they turn 19. The commission is not obligated to feature a student every month.

E-signatures and scanned copies of completed nomination forms will be accepted during COVID restrictions.
Submit Nomination To
Select one of the following delivery options:
email Thomas.Goodrich@state.nm.us (pdf documents preferred)
fax 505-827-6043
usps Music Commission Student Spotlight, 407 Galisteo St. #270, Santa Fe, NM 87501
Timeline
| | |
| --- | --- |
| Ongoing | Nominations sought year-round |
| Ongoing | Nominations reviewed by New Mexico Music Commission administration |
| September-May | No more than one student will be featured each month |
Recipients
Sponsors
The New Mexico Music Commission's Student Musician Spotlight series is sponsored, in part, by: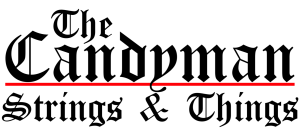 The Candyman Strings & Things is New Mexico's premier full-line music store and a welcoming music hub and education center serving people from all walks of life; from families to professional musicians, and everyone in between. Winning the prestigious NAMM's Dealer of the Year Award (the best music store in 104 countries!), The Candyman also offers an instrument rental program as well as repair and commercial sound installation services. "It is our honor to help support the The New Mexico Music Commission's Student Musician Spotlight and are thankful to the Commission for offering such a prestigious recognition for such deserving and talented young musicians." Rand and Cindy Cook, owners

Robertson & Sons Violin Shop is one of the world's leading experts in and largest dealers of rare and contemporary instruments and bows of the violin family.  At Robertson & Sons, they work diligently to ensure that your search for the ideal instrument or bow will be a positive, satisfying experience. As a full-service violin shop, they offer many services, including valuations and certificates of authenticity, a world-class repair and restoration department, an extensive sheet music library, and a nationwide instrument rental program. They welcome your inquiry and look forward to serving your every musical need!
More sponsors coming soon!
Please show your support to these organizations by shopping with them. Be sure to mention the Music Commission's Student Spotlight series when you make your purchase. Thank you for supporting the New Mexico music industry and our state's young talent!