Andru Bemis ~ Carlsbad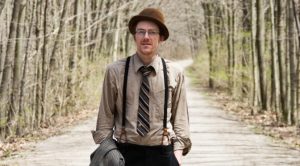 Andru Bemis is a folk and Americana musician from Carlsbad currently living in South Haven, Michigan. He performs on the banjo, violin, guitar and banjo-ukulele (which he calls a "banjolele"). Bemis lives a minimalist lifestyle, and is known for his engaging live shows throughout the United States. He tours primarily by train, public transportation, and hitchhiking.
Bemis has released half a dozen albums, most notably: "Plays Past His Bedtime" (2002), "Singer" (2004), and "Rail To Reel" (2006). "Folkadelphia Session" (2015) is his most recent release, recorded live at the WXPN Studios. He has collaborated on albums with Jason Webley, Trent Wagler & Jay Lapp, Rachel Ries, and Elisabeth Pixley-Fink.
Since 2007, Bemis has operated Foundry Hall, a non-profit, all-ages community center and performance venue in South Haven, Michigan.
Bemis' solo performances are spiritual, enlightening and entertaining for audiences of all ages. His powerful tenor voice and instrumental accompaniment harken to a time before television, when tunes were shared between neighbors in parlors and on porches, in churches, saloons and Grange halls. His repertoire is a seamless combination of original songs and carefully selected public domain and folk songs, many of which are rarely heard today. Like Woody Guthrie and countless historical folk musicians and troubadours, Bemis often adds new verses to old songs and crafts them to his liking. He has played violin since the age of 5, and is self-taught on the guitar, banjo, banjolele, and an assortment of other instruments.
Songs from Bemis' self-produced albums are played on radio stations throughout the country, and have been featured in a number of independent films. "Rail To Reel" was called the "Best Folk Album of 2006" by KVDS FM (Davis, CA), for bringing new life and unique instrumentation to a collection of lesser known traditional songs learned and adapted through his travels. Bemis contributes frequently to other artists' recordings, including a 2011 collaboration, "Say Yes to Yourself!," with fellow Michigan musician Elisabeth Pixley-Fink. The duo celebrated the album's release with a 22-state train and bus tour, performing nightly for two months, from Minneapolis to Mexico City.
above: Andre Bemis with a banjo performing "Babe, It Ain't No Lie" live on WLRN Radio in Miami, Florida 5/1/16.
for more information: www.andrubemis.com
source: wikipedia.org