Brian Hardgroove ~ Santa Fe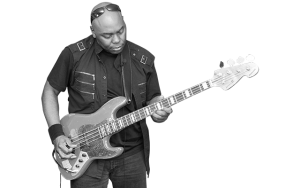 Brian Hardgroove works as a producer and educator. Most recently, he served as artist in residence at Santa Fe University of Art and Design, where he helped start the Artists for Positive Social Change program. As a music producer, Hardgroove sites Eddie Kramer (Jimi Hendrix, Led Zeppelin, Kiss) and Jack Douglas (Aerosmith, John Lennon, Cheap Trick) as two of his closest and most trusted advisers in the music business. He worked as a producer for Demerit and Brain Failure. He is also the founder of From a Whisper to a Dream, a program that helps young musicians obtain endorsements from manufacturers of musical equipment. Brian is most popularly known for his work with the hip hop group, Public Enemy.
His most recent project is "Audio Rhythm Theory" with Police drummer Stewart Copeland, along with Grammy-winning guitarist Larry Mitchell, who were on a world-wide search for vocalists for their new recording project Audio Rhythm Theory (A.R.T.), touted as the "Biggest Audition in the World," looking for vocalists who can sing and/or rap in English as well as their native languages. Hardgroove was also recently in production with Fred Schneider (The B52s) completing the debut album for GOOD THANG. Schneider and Hardgroove compose all the songs together. Hardgroove plays all the instruments while Schneider provides his classic vocals stylings.
In November 2015, Hardgroove joined Harmony Central to create a Signature Forum called "Hardgroove (and Nothing Less)." The aim of the forum is to provide access to the huge reservoir of expertise Brian has accumulated from his years of touring, recording, playing, and producing.
above: TC electronic met up with Brian Hardgroove from Public Enemy at the 2015 NAMM convention and asked him a few questions.
for more information: TC Electronics
source: wikipedia.org