New Mexico Music Commission's Student Musician Spotlight
Featured Student: Kayden Kelly ~ Santa Fe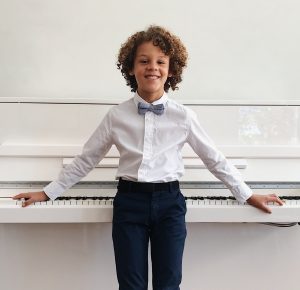 Kayden Kelly has been playing piano since he was five, violin since he was seven, and has been an orchestra member of the Santa Fe Youth Symphony program since he was eight and is currently the co-concertmaster of the Santa Fe Youth Philharmonic. He has won first and second place in the New Mexico State Honors Competition, Level 1 in 2015 and Level 2 in 2016 respectively, and honorable mention this year in the New Mexico Statewide Competition in Junior Piano. Additional, he won 3rd place in 2018 Henle Verlag International Competition showcasing the work of Frédéric Chopin.
Kayden has played the harpsichord with the Santa Fe Youth Intermezzo String Orchestra as well as being invited to participate in the Performance Santa Fe EPIK artist program when he was nine. In the EPIK program, he was invited to perform at the Performance Santa Fe Gala at the El Dorado Hotel as well as perform in their community opera, The Mikado.
During his summers, Kayden has attended prestigious music programs both at the Julliard Summer Performance Arts Program for the last 2 years and the Sphinx Program for violin and chamber music at Curtis Summerfest.
Kayden has been a dedicated student for three years with Jacquelyn Helin, Steinway Artist and Piano Faculty at the New Mexico School for the Arts. He also recently started piano studies this fall with Falko Steinbach, Head of the Piano Performance Program at the University of New Mexico. For the past four years, he has been studying violin with Yuko Shimokawa, who was taught by the renowned Almita and Rolando Vamos.
This August, Kayden has his debut at the National Theater of Costa Rica in San Jose where he performed piano repertoire and a violin sonata for audience 700 people. He recently just performed in Keller Hall with the UNM Department of Music Piano Studies Recital (featured video).
Kayden Kelly is currently a 6th grader at Albuquerque Academy. He is enthusiastic about all classical music and opera. Kayden's other hobbies are reading, hiking, swimming, skiing, science documentaries as well as being a big fan of the Santa Fe Opera.
Kayden was nominated for the Music Commission's Student Spotlight by Dr. Jacquelyn Helin. Dr. Helin says of Kayden, "Kayden exhibits enthusiasm for all music and is particularly excited by virtuosity and complex rhythmic patterns. He loves to perform and has great instincts and musical flair. He is prodigiously talented and has a wonderful ear. Kayden comes to all of his lessons extremely well-prepared and practices hard each and every week. Moreover, he is kind and empathetic, with a wonderful sense of humor and joy for life."
Congratulations, Kayden, for being selected as a featured student musician! In addition to being inducted into the Student Spotlight, Kayden will be featured on the Music Commission's Facebook page and will receive an official certificate of recognition from the State of New Mexico.
Click here for information about the Student Musician Spotlight.
above: Kayden Kelly performing Chopin's Fantaisie Impromptu in c-sharp minor, Op. posth 66 at the 3rd Annual New Mexico Platinum Music Awards show, August 23, 2019, where Kayden was the featured NMMC Student Music Spotlight performer.

note: Kayden's biographical information, image, and video are used with written permission of his parents Juan and Kim Kelly.