New Mexico Music Commission's Student Musician Spotlight
Featured Student: Sydney Chapman ~ Farmington | Kirtland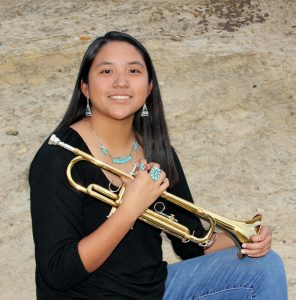 Sydney Chapman has been playing the trumpet with the Kirtland schools for the past 8 years, 4 years with the San Juan College (SJC) Symphonic Band, and 3 years with the SJC Jazz Big Band. As a senior at Kirtland Central High School (KCHS) she is in her 3rd year as the marching band's drum major. Adding to her years of experience, she has dedicated the past 2 years playing with the New Mexico "Arsenal Drum and Bugle Corps" and is looking forward to auditioning again later this year.
In addition, Sydney has contributed to the area community by playing in the Veteran's Day Memorial directed by Janet Isham. She has also performed the National Anthem for her grandfather, Emerson Lee, who received lost medals during the Vietnam War. She stated, "It was an honor to meet New Mexico Congressman Ben Lujan as he presented the medals to my grandfather." In the Pueblo of Zuni, Sydney played with the A:shiwi A:wan Band (Zuni Tribal Band) during the 2018 Zuni Fair, "It was a privilege to play with other Zuni musicians after 10 years of band absence, I could feel the excitement from the community members as we played together." On special occasions, Sydney has played for the Zuni Christian Reformed Church as a way of giving thanks to God.
During her sophomore and junior year at KCHS, Sydney completed 6 separate auditions which included: North West New Mexico Music Educators Association (NWNMMEA) District Honor Band, NWNMMEA District Honor Jazz Band, Fort Lewis College Honor Band, NMMEA All-State, KCHS drum major, and the New Mexico "Arsenal Drum and Bugle Corps." Sydney has achieved this level of musical excellence by putting in extra hours of hard work before and after school hours. Her most difficult experience was playing and performing with the New Mexico "Arsenal Drum and Bugle Corps," which consisted of 12+ hours of challenging rehearsals that lasted for a month and concluded with a 2 week tour. Sydney states, "The long amount of hours were mentally and physically challenging, but the rewards came when performing in large stadiums for thousands of people. Representing New Mexico through the performing arts was the best experience thus far."
Sydney was nominated for the Music Commission's Student Musician Spotlight by Delbert Anderson, a professional trumpeter from San Juan County. As a Native American musician, he has inspired many younger musicians to pursue their passion for music. He is also the current SJC Jazz Big Band director where he has taught Sydney for the past 2 years. Sydney indicates that, "Delbert is a well-known musician in the community and has created pathways for other Native American musicians to follow." Delbert says of Sydney, "As one of Sydney's instructors, I noticed she is a very dedicated individual who practices and completes more than what she is asked to do. She goes above and beyond for her band mates and most of all takes her trumpet playing very seriously. Sydney has a very natural beautiful tone on the trumpet. At such an early age, she has developed a passion for music, became an emotional human being and has the utmost respect for everyone who comes in contact with her."
Sydney is immensely honored by this recognition and is thankful to her family for their unconditional support throughout all of her musical activities. She also thanks her previous and current band directors for the knowledge they have given her. As a member of the Zuni Tribe, Sydney hopes to inspire, teach, and be a role model for young Native American musicians. Her future plans after graduation is to double major in Music Education and Performance at Eastern New Mexico University.
Congratulations, Sydney, for being selected as a featured student musician! In addition to being inducted into the student spotlight, Sydney will be featured on the Music Commission's Facebook page and will receive an official certificate of recognition from the State.
Click here for information about the Student Musician Spotlight.
https://www.youtube.com/watch?v=WIJ31wZPnOg&feature=youtu.be
above: Sydney Chapman performing A Child is Born with the San Juan College Jazz Band, directed by Delbert Anderson.
note: Sydney's biographical information, image, and video are used with permission of her mother, Marla K. Chapman.
No copyright is claimed in the above creative examples and to the extent that material may appear to be infringed, the New Mexico Music Commission asserts that such alleged infringement is permissible under fair use principles in U.S. copyright laws. If you believe these materials have been used in an unauthorized manner, please contact us.