New Mexico Music Commission's Student Musician Spotlight
Featured Student: Wesley Dong ~ Albuquerque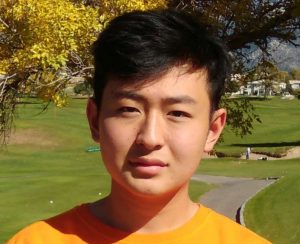 Wesley Dong is a violinist, pianist, and a junior at La Cueva High School in Albuquerque, NM. At the age of 6, Wesley started his music career studying violin with Gail Johansen and piano with James Spontak in the Fairbanks Suzuki Music Program in Fairbanks, Alaska. The Suzuki program gave Wesley the opportunity to participate in the Fairbanks Suzuki Institute each summer, where he was able to play solos at the students' recitals.
Wesley moved to New Mexico with his family in 2011. He studies piano with Lawrence Blind at New Mexico School of Music and violin with Ruxandra Marquardt. Wesley has won several local piano competitions and state honors for his piano performances. In 2015, Wesley received recognition from the International Rosario Marciano Piano Competition in Vienna, Austria. Wesley was a junior piano finalist in the Southwest Division of Music Teachers National Association MTNA's, 2017-2018 competition year.
Wesley has been very active in his school orchestras as well. Wesley has been concertmaster of several orchestras in the state and around the community since middle school.  At La Cueva High School Wesley, has the honor of playing violin in the Camerata orchestra.  Wesley is the current concertmaster and has been a soloist with the ensemble twice.  Last year, Wesley was the featured soloist performing Vivaldi's:Winter.  Wesley impressed judges and audiences alike at the Hollywood Music Festival that the orchestra attended that Spring.   The orchestra won every single award given to orchestra ensembles, and Wesley won a soloist award.   In 2017, La Cueva Camerata was chosen as the New Mexico Music Educators' Association's Honor Orchestra. In 2018, the La Cueva Band was in need of a piano player for their New Mexico Activities Association's state band contest.  Wesley joined the Band and performed at the festival and helped them win a state championship.  Wesley is currently one of the vice-presidents of the La Cueva Orchestra Program. This year, Wesley and Camerata will be competing at the National Orchestra Festival as part of the American String Teachers' Association's conference. Wesley is a member of the Albuquerque Youth Symphony program where he plays violin as a section leader.   Wesley has auditioned for and made it into the New Mexico Music Educator's All-State music festival the last two years as one of the top players in the state.
In addition to music, Wesley loves playing tennis, swimming and soccer. He is also finding opportunities for volunteering in the community as part of key club.  Wesley plans to pursue music as a career. Wesley is extremely humbled by this recognition and is grateful to all those who have supported him throughout the years, particularly his parents, private teachers, and his orchestra director at La Cueva High School, Rebecca Simons, who nominated him for this recognition.
Congratulations, Wesley, for being selected as a featured student musician! In addition to being inducted into the student spotlight, Wesley will be featured on the Music Commission's Facebook page and will receive an official certificate of recognition from the State.
Click here for information about the Student Musician Spotlight.
above: Wesley Dong performing Three Fantasy Pieces Op. 6 III. Scherzo by Charles Tomlinson Griffes (1884-1920). Griffes was an American composer for piano, chamber ensembles and voice.
note: Wesley's biographical information, image, and video are used with permission of his parent Xi Wang.
No copyright is claimed in the above creative examples and to the extent that material may appear to be infringed, the New Mexico Music Commission asserts that such alleged infringement is permissible under fair use principles in U.S. copyright laws. If you believe these materials have been used in an unauthorized manner, please contact us.