New Mexico Music Commission's Student Musician Spotlight
Featured Student: Haven Hall ~ Santa Fe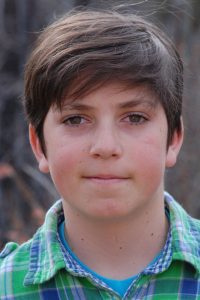 Haven Hall is the January 2018 featured student in the New Mexico Music Commission's Student Musician Spotlight series.
Haven was born drumming. It has always been instinctual for him. He started drumming with his hands and anything he could get a hold of as soon as he could move. He got his first drum kit when he was 3 years old and naturally began playing his own original poly rhythms.
At the age of 6, he met the wonderful staff at the Candyman Strings & Things in Santa Fe one day when he joined a group of older kids, adults and instructors to play "All Along the Watchtower" for 15 minutes straight. The owners of the store, Cindy and Rand Cook, took Haven in as family and have supported him wholeheartedly ever since. He's participated in the Candyman's Rock Band Camp for 5 years, recording songs in a local studio and performing live. Haven has been taking weekly drum lessons at the Candyman with his mentor, Andy Primm, since he was 8.
At the age of 9, Haven and two friends formed a band called Peach Fuzz, after enjoying a box of fresh peaches harvested from a tree in Haven's yard. They've rehearsed weekly without any instruction. Their first performance was in 2016 on the Skylight stage, debuting an original knockout tune, "The Man Behind the Fuzz". At the same show, Haven sang lead vocals for the first time, on "House of Gold", by 21 Pilots. Since, they have performed several times at the Candyman, at the SF Brewing Company for a Feeding Santa Fe fundraiser, and most recently, opening for Ralph's World on the grand stage at the Lensic Theater.
Haven can't help but play his drums, and he practices every day. He aspires to be a professional drummer in a rock band when he's older. His parents have always thoroughly supported his drumming and have enjoyed watching his talent develop. He is very grateful to Cindy Cook for nominating him and to the NM Music Commission for selecting him, and he is deeply honored to receive the Student Spotlight Award.
Haven was nominated by Cindy Cook, co-owner of The Candyman Strings & Things music store in Santa Fe. In her nomination, Cindy writes, "Haven's personal strengths are as impressive as his musical accomplishments. He's a quiet calm and acts as a sort of 'anchor' in group settings. He has a wonderful sense of humor and doesn't seem to engage in unnecessary quarrels or disputes. He is sensitive to the feelings of others while guarding his own, and is aware of his environment, understands how he fits in, and acts appropriately. His calm and pleasant nature and openness to feedback reflects that he's always learning and growing – an impressive strength that will continue to serve him well in school and in life."
Congratulations, Haven, for being selected as the Music Commission's January 2018 student musician! In addition to being inducted into the student spotlight, Haven will be featured on the Music Commission's Facebook page and will receive an official certificate of recognition from the State.
Click here for information about the Student Musician Spotlight.
above: Haven Hall jamming on New Year's Eve Day, 2017.
note: Haven's biographical information, image, and video are used with permission of his parents.