New Mexico Music Commission's Student Musician Spotlight
Featured Student: Jordyn Tatum ~ Albuquerque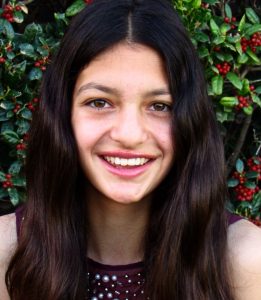 Jordyn Tatum is the February 2018 featured student in the New Mexico Music Commission's Student Musician Spotlight series.
Jordyn has been a chorister at the Cathedral of St. John for ten years and is currently a member of the Cathedral Choir. As a Senior Chorister she is a role model and mentor to the younger members of the program. She admires the demanding work and dedication of the choir director and Director of Cathedral Music, Dr. Maxine Thevenot and assistant organist Mr. Edmund Connolly. She is currently the Cathedral's Jr. Choral Scholar.
The Cathedral Choir tours nationally and internationally and Jordyn has had the opportunity to sing with the choir and as a soloist at Westminster Abbey and Winchester Cathedral (U.K), the Washington National Cathedral (Washington D.C.) and in churches in New York City. She will be singing at Wells Cathedral, U.K. this summer with the Cathedral Choir. Over the past 3 years, Jordyn has attended the prestigious week-long Saint Thomas Girl Chorister course in New York City.
The love for music and learning is evident in Jordyn's passion for all types of music. She has met many composers and has been a featured soloist in the Cathedral commissioned works by Andrew Carter and Aaron David Miller and on the Cathedral Choirs recent recordings In Dulci Jubilo (2015) and Tell of His Love (2017).
Jordyn is a Sophomore at Cottonwood Classical Preparatory School. She studies voice with Edmund Connolly and has been selected several times to the All State Mixed Choir. She also plays the piano and is interested in learning to play the ukulele.
Around Albuquerque, Jordyn has participated and been a prizewinner in the Vocal Artistry Art Song Festival, Albuquerque's Got Talent, Kirtland's Got Talent, The Albuquerque Little Theater, Landmark Musicals and the Santa Fe Opera. She was selected to sing the National Anthem for the Wounded Warrior event at Kirtland Air Force Base.
Jordyn was nominated by Dr. Maxine Thevenot, Director of Music at the Cathedral of St. John in Albuquerque. Maxine says of Jordyn, "Over her years as a young Chorister and now as a stipendiary Junior Choral Scholar in the Cathedral Choir, Jordyn has consistently been a dedicated, not to mention talented choir member. She arrived as a promising six year old chorister, and she has worked especially hard to hone her craft and skills in recent years whilst maintaining her complete humility."
Jordyn is extremely humbled by this recognition and is grateful to all those who have supported her throughout the years.
Congratulations, Jordyn, for being selected as the Music Commission's February 2018 student musician! In addition to being inducted into the student spotlight, Jordyn will be featured on the Music Commission's Facebook page and will receive an official certificate of recognition from the State.
Click here for information about the Student Musician Spotlight.
above: Jordyn Tatum sings Pie Jesu from Gabriel Fauré's Requiem in D minor, Op. 48, conducted by Dr. Maxine Thevenot, organist Edmund Connolly, recorded Saturday, November 11, 2017 at The Cathedral of St. John.
note: Jordyn's biographical information, image, and video are used with permission of her parents.