Music Commissioner D'Santi Nava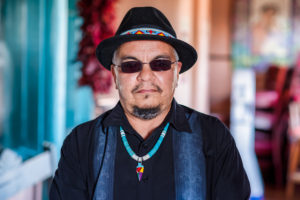 Music Background
Professional Musician with over 40 years' experience. Highlights include:
Band Leader 1. Underground Cadence: rock and blues; 2. Una Mas: latin fusion; 3. El Brujo Trio: nuevo flamenco; 4. El Brujo Duo: latin fusion, acoustic ratpack music, blues; 5. El Brujo Solo: acoustic instrumental, classical, nuevo flamenco
Lead Guitar with Shelley Morningsong
Backing Guitar with Guitar Shorty
Festivals 1. Santa Fe LGBTQ+ Pride 2014-2019; 2. Albuquerque LGBTQ+ Pride 2014-2019; 3. Chocolate and Coffee Festival 2016-2019; 4. Lavender Festival 2016-2019; 5. New Mexico State Fair 2015-2019; 6. Santa Fe Renaissance Fair 2016-2019
Tours 1. Mexico City 2019; 2. Canada and New York 2018; 3. Santa Fe Railyard with the Iguanas 2017; 4. Key West with Larry Baeder and Bill Blue 2016; 5. Ozomatli 2015; 6. South Texas with 4Known 2015; 7. 6 Southern states and Key West 2014; 8. Midwest 13 states 2013
Solo Recital Guitar New Mexico, Kellar Hall, Classical guitar recital 2020
Recent Interviews 1. Suave Radio 99.9FM 810AM 18 Sep 2020; 2. Espejos de Aztlan, on 89.9 FM KUNM and kunm.org 28 Sep 2020; 3. Deer Tracks, Gallup Public Radio 21 Sep 2020; 4. Madrid KMRD Radio Station 96.9 17 Sep 2020
Awards New Mexico Music Award Winner 2017; New Mexico Music Award Nominee in 3 categories 2019
Past Bands 1. The Navas Band 20 years: ancestral music; 2. The Tangents 18 years: rock covers, new mexico and mexico; 3. Collective Measures: original music in New Mexico, featured in "Descansos of NM" documentary; 4. Double D: rock; 5. Los Esmitz: the smiths covers
Administrative Background
Senior Maestro: Kalpulli Teocalli Ollin 2011-present
Founder and Owner: Brujo Music Studio 2016-present
President: Guitars Not Guns Santa Fe Chapter 2008-2011
Education
Extensive Private Instruction with:
Craig Dell, Dell Studios
Roberto Capocchi, Santa Fe Guitar Academy
Guitar New Mexico
Hometown
Santa Fe
Residence
Santa Fe, Santa Fe County
Appointment
11 September 2020 by Governor Lujan Grisham
Term
12 September 2021 ~ 12 September 2024
Committees
County Liaison

Special Projects
COVID-19 PSAs produced by Commissioner Nava:
Bio
D'Santiago "El Brujo" Nava, a native of Santa Fe, brings an interesting blend of rhythmic sounds of his indigenous culture, childhood love of classic rock, classical guitar training, and all eras of blues. D'Santi Nava's forte is classic rock, nuevo flamenco, blues, and latin music from all eras.
Nava has been a musician for over 40 years, being self taught from the age of 7, guided by his brother Daniel Nava, studied with Craig Dell, Willy Chills, and most recently with Roberto Capocchi. D'Santi has a unique Amadeus quality in composing several original songs and a gifted ear capable of memorizing several songs daily.
D'Santi Nava is an integral part of the music scene with the Nava's for several years, The Tangents for 18 years, Collective Measures, Double D, Los Esmitz, Several private gigs with Guitar Shorty, among nationwide and worldwide talent that live in New Mexico part time. He completed a 13 state jam tour in 2013 through the midwest. In 2014, a 6 Southern state jam tour ending with musician friends in Key West.  In 2015, he jammed with one of the best South Texas Rocking Band name 4Known and a dream come true to sit in with Ozomatli.  In 2016 he returned to Key West where he jammed with Larry Baeder and Bill Blue.  August 2017, he sat in with the Iguanas at the Railyard in SF, NM.  August-September 2018, he toured in Canada. December 2019 he toured in Mexico City.

 He currently is lead guitar with Shelley Morningsong; Underground Cadence, a cover band playing Rock, Blues, Funk; Una Mas, a Latin Rock band sharing Santana music among favorite Latin songs; Brujo Trio sharing his original Nuevo Flamenco songs, duo with local vocalists. He is currently expanding his Solo repertoire. Main influences range from Santana, Hendrix, Jesse Cook, Los Indios, Lila Downs, Strunz and Farah to the Gypsy Kings.  
D'Santi Nava believes playing music brings healing to the soul! "Music is Healing and with each note I heal."~D'Santi Nava
Creative Examples
These examples cite Nava's work as a music industry professional in the private sector.
Media
Performance
Nava performing his original song "Alma de Gitana" at the 2017 New Mexico Music Awards show (NMMA). The song was a NMMA Latin Genre nominee that year. Nava is joined by Chris Riggins-Rhythm Guitar and JennJ-Cajon. 
D'Santi performing with the amazing Ozomatli band at the Sunshine Theater 2015.

Nava performing with the Iguanas at the Santa Fe Railyard 2017.
No copyright is claimed in the above creative examples and to the extent that material may appear to be infringed, the New Mexico Music Commission asserts that such alleged infringement is permissible under fair use principles in U.S. copyright laws. If you believe these materials have been used in an unauthorized manner, please contact us.