Fernando Cellicion ~ Zuni Pueblo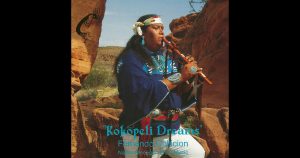 When he was asked as a student at Zuni Elementary School in the late '60s to write an essay about what he wanted to be when he grew up, Fernando Cellicion didn't really have to think on the subject too long. He always wanted to be a famous musician, known all over the world. Flash forward to 1996. Cellicion is performing as part of a group of Native American musical artists on-stage at Carnegie Hall in New York City. Would his teacher and fellow students have believed that this would happen? No way. They looked at him as an oversize goofball, certainly not the type of person who would become a celebrity. But he is not the first accomplished musician to have been regarded practically with contempt by his peers, and indeed these sorts of deep feelings usually work their way back up to the surface, providing a musician's work with emotional integrity. This is definitely the case with Cellicion, who has performed a variety of traditional music. However, he is best-known as a recording artist who stands out on the traditional Indian flute, performing in a genre in which there are many copy-cats, insipidly one-dimensional players, and compact discs practically reeking of incense and/or scented candles.
"It took a lot of work and not listening to critics, just keeping my focus," Cellicion has said of his career success, which has also led to performing before royalty in France. An artistic background at home surely helped motivate him. His father, Roger Cellicion, founded the dance group the Traditional Zuni Dancers to preserve and pass on his knowledge of Zuni culture to his children. Eventually the group would be taken over by son Fernando, and it would become one of the artistic vehicles that has led to performances all over the world.
He began writing his own original compositions and learning a variety of traditional Zuni music when he was 22, resulting in more than ten different recordings released on labels such as Indian Sounds, Essential Dreams, and Oyate. His love affair with music really began in middle school with the band, which he joined because he was under the impression it would be a way to get out of doing schoolwork. In his first year, he played a baritone horn, but as is the case with many great players, not all that much was accomplished in the first 12 months of his musical life. He does claim, though, that by year's end he could play a B-flat scale and "The Marine's Hymn," which is probably more than one could say for Eminem after selling millions of records. By the next year, Cellicion was making quick progress on his horn, falling more and more in love with being a musician and even starting to tamper with other instruments. By the time he graduated from high school, he was apparently playing a dozen different instruments. For eight years after high school, Cellicion played with the Zuni Pueblo Indian Band, eventually becoming the assistant director. In the '80s, he became involved in powwows and organized a drum group. Not long after that, Cellicion tried playing a standard recorder. He noticed the similarities of the recorder to the flute, an instrument that he had always liked but had never really played. Soon after, he bought a Native American-style flute for only a few bucks and began to teach himself to play by following along on sides cut by R. Carlos Nakai and Tree Cody. Most of the songs recorded on his first album were pieces that he composed on the recorder. This was the first of several volumes, entitled The Traditional and Contemporary Indian Flute of Fernando Cellicion, released on the Indian Sounds label. He immediately established that he had created a unique repertoire, including not only music from the Zuni, Navajo, and Comanche people, but also interpreting Christian spirituals such as "Jesus Loves Me." It was a time of declining interest in Native American music, with only about five well-known artists performing and recording on the traditional flute. Nonetheless, Cellicion found himself situated at the starting gate because there would soon be a contrasting rise in interest in what he was doing, with the lyrical sound of Indian flute music also appealing to the exploding new age market.
He put together a collection of close to a dozen flutes, all sizes and shapes, most of them gifts from their makers. After mastering some of his musical idol's songs, he began to develop his own style and write his own music. He became known for creating a trance-like mood by his use of soft and delicate flute playing, often incorporating his velvety yet pock-marked voice. Native American mythology tells us that the flute was created by a woodpecker under direct orders from one of the gods, and the first man to play one found that it brought him many wonderful things, including marriage to the chief's daughter. Perhaps the instrument has not brought Cellicion such a bride, but nonetheless his music has brought him to 17 countries, as well as demanding travel throughout the U.S. He also performed in Istanbul in the late '90s. In 2001, his dance group took part in a massive festival of international artists in Taiwan. The group has also performed at a broad range of venues, including the World Music Festival in Tokyo and at the Gallup, NM, Intertribal Ceremonials, New Mexico State Fair, Connecticut River Rendezvous. They have also played at parades, celebrations, pow-wows, and other functions throughout the United States and have won many top honors in dance competitions.
In addition to his recording and touring successes, Cellicion has also been featured in several movies and television shows, such as Good Morning America and the Today show. His concerts have been featured on National Public Radio and National Native News, the latter program produced out of Anchorage, AK.
~ Eugene Chadbourne
above: Fernando's tribute video from the 2017 Platinum Music Awards show at the Lensic. Filmed and edited by Bunee Tomlinson of Windswept Media. Produced by the New Mexico Music Commission Foundation, David Schwartz Executive Producer.
for more information: Fernando Cellicion on Facebook
source: iTunes Apple Music Review