Bayou Seco ~ Silver City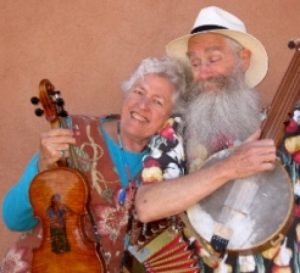 Recipients of the 2017 Governor's Arts Award in music, Ken Keppeler and Jeanie McLerie, known the world over as Bayou Seco, are not only extraordinary performers but they are ambassadors of New Mexico music. They have made significant contributions to New Mexico by preserving the cultural heritage of Hispanic and Cowboy folk music, and bringing it to life for future generations through their performances and teaching. McLerie has been a professional musician since 1962, performing in the United States, Canada and Europe with the groups Sandy & Jeanie, The Harmony Sisters and the Delta Sisters.
For more than 30 years, she has taught fiddle instruction to children through "The Fiddling Friends," which focuses on an international repertoire of fiddle styles and music, with an emphasis on the sources of the music. Keppeler, a fourth generation Southwesterner with roots in New Mexico, Arizona and California, grew up with the music of the region and has been a professional musician since 1972. He plays fiddle, harmonica, banjo, and accordion and is also a violin maker. Together in Bayou Seco they are renowned for their "chilegumbo music," which celebrates the cross-cultural music of the Southwest. Former State Folklorist Claude Stephenson said Keppeler and McLerie were instrumental in helping to bring the old traditional Hispanic style music of such New Mexico legends as Cleofes Ortiz, a violinist from Bernal, into the mainstream of the folk music scene. Cipriano Vigil of El Rito, who received a Governor's Arts Award in 1994 for traditional music, said he has known and admired Keppeler and McLerie since the early 1980s. "So many other people know our music because of their efforts," Vigil said. Rus Bradburd, an associate professor at New Mexico State University, said Bayou Seco have found and kept alive traditional dances in Albuquerque, Silver City, Las Cruces and Mesilla.
"Simply put, nobody else in the history of our great state has done so much for the music and gotten so little personal gain," Bradburd said. "In a world overrun with smart phones, iPads, iTunes and technology gone wild, Keppeler and McLerie have pushed in the other direction. To them, the oldest magic is the best kind – the music that gets you dancing, the love of tradition, the respect for roots and older people."
above: Bayou Seco performing, "Happy One Step" at their home in Silver City, NM, 2014. They share, "A tune we learned directly from Dennis McGee while living in SW Louisiana in 1978 and 1979. He would come and sit on our back porch on Saturday mornings and we'd play tunes and visit."
for more information: BayouSeco.com
source: Governor's Arts Awards