Dr. William Clark ~ Las Cruces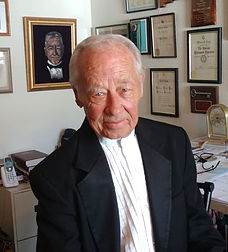 Dr. William Clark, recipient of the New Mexico Music Commission's 2018 Platinum Music Award, was director of bands at New Mexico State University (NMSU) from 1985 to 1994 and then became chair of the NMSU Music Department where he is credited with doubling the number of music majors to more than 200 during his 11 years. Clark founded the Mesilla Valley Concert Band in 1986 and has served as conductor and music director for the past 30 years. The band has presented more than 220 free concerts to over 150,000 central and southern New Mexico residents.
In 1990, Clark founded the Las Cruces All-City Middle School Honor Band, which is selected by audition and presents a concert each year in February. In 1994, Clark founded the Las Cruces New Horizons program for seniors who want to play instruments or sing after retirement.
Clark's honors include: Las Cruces Citizen of the Year in 1988 and New Mexico Music Educator of the Year in 1992. He was inducted into the New Mexico Music Educator's Hall of Fame in 2007 and in 1993 elected to the American Bandmaster's Association–the highest honor for international professional bandmasters. Dr. Clark received the Governor's Award for Excellence in the Arts in 2015. He maintains an active private studio and is a freelance tuba player.
above: Dr. Clark's tribute video from the 2017 Platinum Music Awards show at the Lensic. Filmed and produced by NMSU's KRWG.
source: Governor's Arts Awards