New Mexico Music Commission's Platinum Music Awards
New Mexico Platinum Music Awards Nominations opening in early 2018"The Platinums" are an evolution of the New Mexico Music Commission's Platinum Achievement Awards, established in 2013 to celebrate the role that the music industry plays in the cultural life and economic success of New Mexico. Presented annually, the awards honor living musicians and music supporters who have demonstrated lifetime achievement in their musical idiom or have made significant or distinguished contributions to music in New Mexico. The Music Commission manages the Platinum Awards nomination, adjudication, and selection process. The Commission charged the New Mexico Music Commission Foundation with producing the awards ceremony and show. 2017 honorees: Arlen Asher, Fernando Cellicion, Bill and Bonnie Hearne, Al Hurricane, Dr. Dale E. Kempter, and Catherine Oppenheimer – Lee Berk award.for more info: www.platinummusicawards.org

Posted by New Mexico Music Commission on Tuesday, November 28, 2017
above: the 2018 Platinum Music Award promotional featuring clips from the 2017 awards show.
About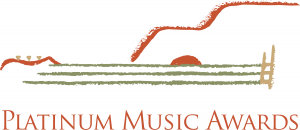 "The Platinums" are an evolution of the New Mexico Music Commission's Platinum Achievement Awards established in 2013 to celebrate the role that the music industry plays in the cultural life and economic success of New Mexico. Six Platinum Music Awards (PMA) are presented annually to living musicians and music supporters who have demonstrated lifetime achievement in their musical idiom or have made significant or distinguished contributions to music in New Mexico. A diverse and prestigious list of musicians and other outstanding individuals will be honored. The Platinum Awards will continue to evolve with the state's ever-changing music industry so that the impact and relevance of the awards persist.
In 2017, the New Mexico Music Commission adopted the Platinum Music Awards ceremony and show as their annual signature event and primary fund raiser, per their strategic plan, and charged their Foundation with production, media, and sponsorship of these events. The Commission manages the award nomination, adjudication, and selection process.
Here is a copy of the 2018 Platinum Music Awards press release.
Eligibility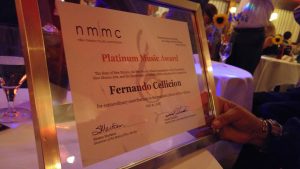 Musicians, individuals, or organizations that have made significant and outstanding contributions to the music industry are eligible to receive the award. This includes musicians from any musical genre, music educators, advocates, or patrons who were born in New Mexico or have established residence in the state at some point in their life; and/or music-related businesses, nonprofits, and foundations.
An individual is ineligible to receive a Platinum Award if they are: a New Mexico Music Commissioner, an employee of the Department of Cultural Affairs, or related to a member of these organizations.
Nomination Process
Nominations are accepted each year from organizations and the public. The nomination window for the 2018 awards closed on March 22.
To nominate a musician, individual, or organization that has made a significant contribution to the music industry, download and fill out a nomination form and provide all required materials as specified in the required nomination form and materials section (below).
To re-nominate a musician, individual, or organization, simply download and fill out a current nomination form and submit updates in a new statement or addendum. Please contact the New Mexico Music Commission to check if nomination materials are still on file before submitting. It is not unusual for a nominee to be nominated several times before being awarded a Platinum Music Award. However, not every individual nominated will receive an award.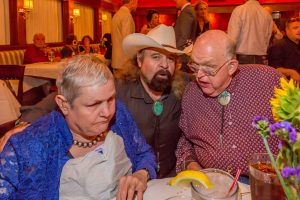 Here is the late Bonnie Hearne, the late George Adelo, and Bill Hearne at the 2017 Platinum Music Awards dinner and awards ceremony which took place at the Palace Restaurant in Santa Fe prior to the awards show at the Lensic. Bill and Bonnie were honorees at the 2017 Platinum Music Awards, along with Arlen Asher, Fernando Cellicion, Al Hurricane, Dr. Dale Kempter, and Catherine Oppenheimer. George Adelo served as a Music Commissioner until his passing in October of 2017.
Photo © Daniel Quat Photography
Required Nomination Form and Materials
The following materials must be submitted with each nomination:
A completed

nomination form

. Check here for the 2019 nomination form.

A statement that includes: the nominee's contributions to NM's music industry, your relationship to the nominee, and why the nominee merits receiving the award.
Three (3) samples of the nominees work, such as: bio or resume/curriculum vitae, articles or publications, previous awards, accolades or distinctions, web sites or social media, industry reviews, live performances, official music videos, or studio recordings. (web links and/or .pdf format preferred)
Three (3) letters of support from people familiar with the nominee's work, such as colleagues, students, mentors, etc. Here is a sample letter of support to give you an idea of what we're looking for.
Format all nomination materials to 8½ x 11 sized paper with portrait orientation; 12 point font preferred. Whenever possible, provide links to samples on the Web in lieu of sending physical copies such as cd's or dvd's. Incomplete or illegible nominations will not be considered.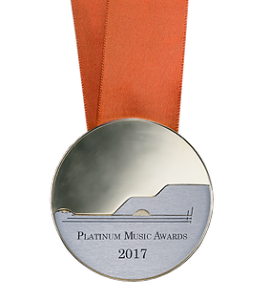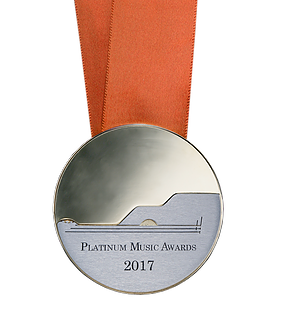 Delivery Options
Nominations may be submitted using one of the following delivery options:
email preferred – If you are adept at using Google Docs or Dropbox, feel free to post your nomination form and required materials there and send us the link.

snail mail or hand delivery: New Mexico Music Commission Platinum Awards, 407Galisteo St., Suite 270, Santa Fe, NM 87501
fax: 505-827-6043
Primary Contacts
Nominations: contact Thomas Goodrich if you have questions about eligibility, the nomination process, nomination form, required nomination materials, adjudication, the awards timeline, or if you need assistance with your nomination.
Ceremony and Show: contact David Schwartz if you have questions about the awards ceremony or show or would like to volunteer, sponsor, or donate to these events. The Music Commission Foundation is a 501(c)(3) non-profit organization and your donations are tax deductible.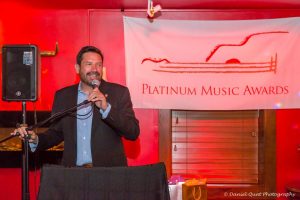 Santa Fe Mayor Javier Gonzales proclaimed Friday, July 21, 2017 as Platinum Music Awards Day.
Photo © Daniel Quat Photography
Lee Berk Award
One Platinum Music Award will be given to an individual or organization who has made a major contribution to the excellence, vitality, and public appreciation of New Mexico's music industry. The purpose of this award is to honor the non-performance sector, those often behind the scenes. The nominee should be worthy of statewide recognition and must demonstrate a lifetime of achievement to New Mexico's music industry. Named after the influential music advocate and educator, Lee Berk, this award recognizes:
An individual such as a conductor, educator, patron, administrator, producer, or sound engineer whose contributions, primarily through teaching, advocacy, organizing, administration, production, or patronage have greatly benefited the music industry in New Mexico.
OR
An organization such as a business or non-profit whose efforts have significantly increased opportunities for and public visibility of music in New Mexico.
Potential Lee Berk Award recipients are selected from the pool of qualified Platinum Music Award nominees submitted by the public.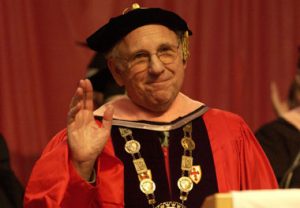 Lee Eliot Berk
(b. 1942) is the namesake of the
Berklee College of Music in Boston and served as its President from 1979 to 2004. He was appointed as the first chair of the New Mexico Music Commission in 2005 by Governor Richardson. Berk subsequently created the New Mexico Music Commission Foundation in 2012 to garner private sector support for Commission initiatives.
Photo © Berklee College of Music, 2004

Proceeds
Proceeds of the 2018 Platinum Music Awards ceremony and show will benefit the Music Commission's Music Education initiatives, most notably their Music in the Schools and ART2ART projects.
In the fall of 2017, the Music Commission and its Foundation entered into partnership with the Santa Fe Public Schools to initiate a Visiting Artist pilot program, as part of their Music in the Schools project. The Visiting Artist program brings professional musicians into the music classroom to deliver assemblies, master classes, clinics, sectionals, and lessons. It is the hope of the Commission and Foundation that this pilot program will expand to other school districts around the state with the continued growth and success of the Platinum Music Awards ceremony and show.
The Commission's ART2ART project pairs a professional musician with a visual artist. The two artists improvise a collaborative performance in front of a live audience. Following the performance, the artists are interviewed on stage, delving into their process, inspiration, and technique. The audience is invited to ask questions following the interview. The work of visual art created during the performance can be auctioned off with proceeds going to fund future ART2ARTs and/or a non-profit organization of the site hosts choice. This project works well in concert settings, community spaces, entertainment at meetings, conferences, or workshops, and with students in an assembly or classroom. The Commission is interested in bringing ART2ART to all parts of New Mexico and would like to feature local artists as well as Platinum Music Awards recipients. If you're interested in hosting an ART2ART, please contact us.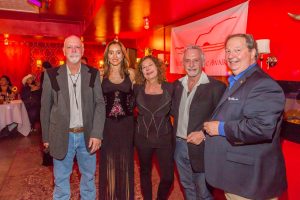 María José Rodríguez Cádiz (second left), Executive Director of Solace Crisis Treatment Center, is surrounded by the Board of the New Mexico Music Commission Foundation, (left to right) Phil Moon, Trish Parks, David Schwartz, and Ned Jacobs – we refer to our Foundation Board as "The Dream Team" and are grateful for their remarkable efforts. Solace was recipient of proceeds from the 2017 Platinum Music Awards show.
Photo © Daniel Quat Photography
2018 Awards Timeline
February
Nominations sought: February 1 to March 22, 2018, noon

March
Nominations juried: by a distinguished panel selected by the Music Commission
April
Announcement of honorees: Thursday, April 19, 2018, Candyman Strings & Things; live radio broadcast by Honey Harris at Radio Free Santa Fe
August
Medallion ceremony and dinner: Thursday, August 30, 2018, 5:30pm, Eldorado Hotel


Tribute show (modeled after the Kennedy Center Honors): Thursday, August 30, 2018, 7:30pm, Lensic Performing Arts Center
Honorees
Platinum Music Awards
2018
Click here for a live Facebook feed announcing the 2018 Platinum Music Awards. Honorees were announced Thursday, April 19, 2018 at Candyman Strings & Things in Santa Fe. Honey Harris with Radio Free Santa Fe broadcast the announcement live on air. 2017 Platinum honorees Arlen Asher and Bill Hearne performed for the event.
2017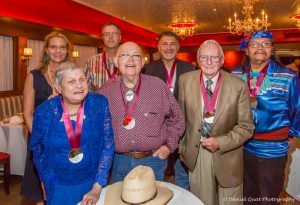 Here are the 2017 Platinum Music Awards honorees, after receiving their medallions during the awards ceremony and dinner, which took place at the Palace Restaurant prior to the show at the Lensic: (front row) the late Bonnie Hearne, Bill Hearne, Arlen Asher, Fernando Cellicion. (back row) Catherine Oppenheimer, Dale Kempter's son, and the late Al Hurricane's son accepting on behalf of their fathers.

Photo © Daniel Quat Photography
Platinum Achievement Awards
2015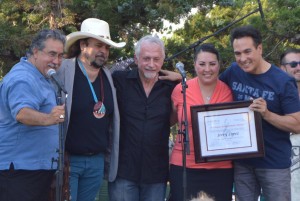 Jerry Lopez (right) recipient of the 2015 Platinum Achievement Award. Jerry was honored at the Fanta Se Fest in DeVargas Park, sponsored by Creative Santa Fe. Pictured with Jerry (left to right) Fred Sandoval – National Latino Behavioral Health Association (Fred nominated Jerry for the award), the late George Adelo – Music Commissioner, David Schwartz – Music Commission Foundation President, and Joy Gutierrez – retired Music Commissioner.
2014
Bumblebee Bob Weil
Herb Jeffries
2013
For More Information