New Mexico Music Commission's Platinum Music Awards
New Mexico Platinum Music Awards Nominations opening in early 2018"The Platinums" are an evolution of the New Mexico Music Commission's Platinum Achievement Awards, established in 2013 to celebrate the role that the music industry plays in the cultural life and economic success of New Mexico. Presented annually, the awards honor living musicians and music supporters who have demonstrated lifetime achievement in their musical idiom or have made significant or distinguished contributions to music in New Mexico. The Music Commission manages the Platinum Awards nomination, adjudication, and selection process. The Commission charged the New Mexico Music Commission Foundation with producing the awards ceremony and show. 2017 honorees: Arlen Asher, Fernando Cellicion, Bill and Bonnie Hearne, Al Hurricane, Dr. Dale E. Kempter, and Catherine Oppenheimer – Lee Berk award.for more info: www.platinummusicawards.org

Posted by New Mexico Music Commission on Tuesday, November 28, 2017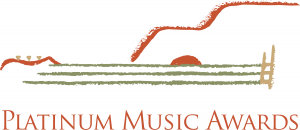 "The Platinums" are an evolution of the New Mexico Music Commission's Platinum Achievement Awards, established in 2013 to celebrate the role that the music industry plays in the cultural life and economic success of New Mexico. Five Platinum Awards are presented annually to living musicians and music supporters who have demonstrated lifetime achievement in their musical idiom or have made significant or distinguished contributions to music in New Mexico. A diverse and prestigious list of musicians and other outstanding individuals will be honored. The Platinum Awards will continue to evolve with the state's ever-changing music industry so that the impact and relevance of the awards persist.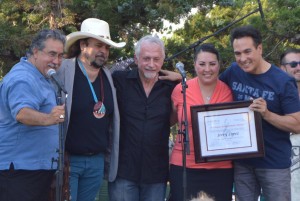 Pictured here is Jerry Lopez (far right) receiving the Platinum Music Award, signed by Governor Martinez, at the Fantase Fest in deVargas Park, June 20, 2015. Also pictured, Fred Sandoval (far left), of the National Latino Behavioral Health Association, who nominated Jerry for the award, and Music Commissioner George Adelo, Music Commission Foundation President David Schwartz, and retired Music Commissioner Joy Gutierrez.
The Platinum Music Awards nomination, adjudication, and selection process is managed by the New Mexico Music Commission, under the jurisdiction of New Mexico Arts and the Department of Cultural Affairs. The Music Commission Foundation manages production, media, and sponsorship of the awards ceremony and serves at the fiscal agent.
Lee Berk Award
Lee Eliot Berk (b. 1942) is namesake of the Berklee College of Music and served as its President from 1979 to 2004. Berk was appointed the first chair of the New Mexico Music Commission by Governor Richardson. Lee subsequently created the New Mexico Music Commission Foundation to garner private sector support for the Commission. The award in his name was suggested by New Mexico Department of Cultural Affairs Deputy Secretary, Mike Delello.
The purpose of the Lee Berk award is to recognize individual and organizational commitment to advancing music in New Mexico.
Eligibility
Musicians, individuals, or organizations that have made significant and outstanding contributions to the music industry are eligible to receive the award. This includes musicians from any musical genre, music educators, advocates, or patrons who were born in New Mexico or have established residence in the state at some point in their life; and/or music-related businesses, nonprofits, and foundations.
An individual is ineligible to receive a Platinum Award if they are: a candidate for or currently serving public office, a New Mexico Music Commissioner, an employee of the Department of Cultural Affairs, or related to a member of these organizations.
Nomination Process
Nominations are accepted each year from organizations and the public. To nominate a musician, individual, or organization that has made a significant contribution to the music industry, fill out a nomination form and provide all required documentation as specified in the guidelines section (below). All documentation must be formatted for 8½ x 11 sized paper with profile orientation. Submit your paperwork by mail, hand delivery, fax, or email. Delivery options are detailed on the nomination form.
Nominations for the 2017 awards closed February 15, 2017. Please return in the fall for information about the 2018 awards. Thank you for your interest!
Nomination Guidelines
The following materials are required with each nomination:
A completed nomination form.
A brief statement that includes: the nominee's contributions to NM's music industry, your relationship to the nominee, and why the nominee merits receiving the award.
Three samples of the nominees work, such as: publications, reviews, articles, previous awards received, web sites or social media, and musicians only: live performances, official music videos, or studio recordings.
Three letters of support from people familiar with the nominee's work, such as colleagues, students, mentors, etc. Here is a sample of a letter of support to give you an idea of what we're looking for.
Awards Timeline
February:  Nominations sought

March:  Nominations reviewed and juried
April:  Public announcement of awardees

August:  Awards ceremony
The 2017 Platinum Music Awards ceremony took take place July 21, 2017 at the Palace Restaurant, during which the honorees received a beautiful medallion and a framed certificate signed by Governor Martinez and the New Mexico Music Commission Interim Chair, Dan Stoddard. Santa Fe Mayor Javier Gonzales wrote a proclamation announcing July 21st 2017 as Platinum Music Awards Day in the City of Santa Fe. A celebratory awards show took place at the Lensic Performing Arts Center following the awards ceremony. Each honoree was recognized with a tribute speech, a video outlining their career, and a live music performance.

Honorees
Platinum Music Award
2017:
Platinum Achievement Award
2015:
2014:
Bumblebee Bob Weil
Herb Jeffries
2013:
For More Information