Forest Alton "Junior" Daugherty, Jr ~ Alamogordo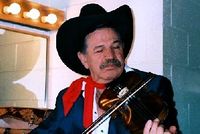 Daugherty (b. July 19, 1930) is a fiddler, guitar player and song writer born and raised in Alamogordo, Otero County, New Mexico. He is ranked among the top five fiddlers in the United States. Daugherty won the New Mexico state fiddling championship eight times, and the Southwest Regional Championship, and has been inducted into the New Mexico Fiddler's Hall of Fame. Over the last sixty years Daugherty has performed around the world at Cowboy poetry events and at Carnegie Hall; with musicians as diverse as Sir Yehudi Menuhin at the First American Violin Congress and Hawaiian fiddler Eddie Kamae; and with distinguished music talents including Mark O'Connor, Aly Bain and Johnny Gimble. In addition, he continues to teach fiddle workshops at the Ashokan Fiddle & Dance Camp. Many of his compositions have been performed and recorded by other artists.
In 1952 just prior to enlisting in the US Navy, Junior married Verla Mae Clay (who died from breast cancer in 1985). He and Verla produced three daughters, Penny Anderson, Voni Daugherty and Tammi Stuart all musicians. In 1991 he married Judy Osborn in Illinois and eventually made his way back to New Mexico. Junior now lives in La Luz, NM.
Performance Highlights
Elko, Nevada – COWBOY POETRY—1999, 2001, 2003
Quad City, Iowa – FOLK FEST with JOHNNY GIMBLE—1993,1994,1995
Illinois University – COWBOY POETRY FOLK FESTIVAL—1994, 1995
Mountainaire, NM – COWBOY FOLK FEST—1997, 1998,1999
Safford, AZ – COWBOY POETRY—2002
Carson, Nevada – COWBOY POETRY—2002
Ashokan, NY – taught week long ASHOKAN FIDDLE WORK SHOP with JAY UNGAR and MOLLY MASON—1982 to 2015
Honolulu, HI – fiddled and performed in EDDIE KAMAE'S acclaimed documentary film "LI'A: LEGACY OF A HAWAIIAN MAN"—1988
Hawaiian Islands – toured the Hawaiian Islands with EDDIE KAMAE AND SONS OF HAWAII to present the film in 1990
Honolulu, HI – HAWAIIAN FILM FESTIVAL—1989
Palm Springs, CA – PALM SPRINGS FILM FESTIVAL—1989
Seattle, WA – SEATTLE FILM FESTIVAL—1989
Glasgow, Scotland – performed shows for Scottish Television with ALY BAIN and PHIL CUNNINGHAM—1988
Dublin Ireland – recorded on album for PHIL CUNNINGHAM—1988
Scotland and England – six-week tour with THE BOYS OF THE LOCH—1988
University of Maryland – concert performance at the FIRST AMERICAN VIOLIN CONGRESS with SIR YEHUDI MENUHIN—1987
New York City – concert performances at the STATUE OF LIBERTY RE-OPENING—1986
New York City – NATIONAL FOLK FESTIVAL—1982,1984, 1986
Fairhill, MD – concert performances at BRANDYWINE FESTIVAL—1985
FOLK CONCERT SERIES – Folklife Center of International House of Philadelphia International Tours (U.S. STATE DEPARTMENT CULTURAL EXCHANGE PROGRAM) — 1984, 1985
COWBOY TOUR – NATIONAL COUNCIL FOR TRADITIONAL ARTS – U.S. Mainland and Hawaii circuit—1984, 1985
Southeast Asia – FOUR WEEK TOUR—1982
North Africa and Middle East – SIX WEEK TOUR—1981
Knoxville, TN – four weeks of concert performances at the KNOXVILLE WORLD'S FAIR—1982
Billings, Montana – special guest entertainer at MONTANA'S FESTIVAL OF STRINGS—1978
Cody, Wyoming – special guest entertainer at WYOMING'S FESTIVAL OF STRINGS—1977
Washington, DC – concert performances at the BICENTENNIAL CELEBRATION—1977
Recordings
"Honkytonkin'" "A Labor of Love – Junior Daugherty and his Circle of Friends" "Lights of Pinon" "Back Stage with Junior Daugherty" "Fun Fiddlin'" "Just Waltzin'" "Just Fiddling' – Vol 2" "Just Fiddling' – Vol I"
above: Junior Daugherty and Tammi Stuart performing at the Ashokan Western & Swing Campers Night 2013
for more information: wikipedia.org
source: wikipedia.org