Robert Mirabal ~ Taos Pueblo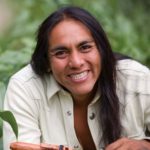 Two-time GRAMMY Award winner, Robert Mirabal, is a 2019 New Mexico Music Commission Platinum Music Awards honoree. He lives with his family at the foot of the sacred Taos Mountain in northern New Mexico. Maintaining a traditional life, keeping the centuries-old customs of the Taos Pueblo people, Robert has been described as a Native American "Renaissance man" – musician, composer, painter, master craftsman, poet, actor, screenwriter, horseman and farmer – and he travels extensively playing his music all over the world. If you live a traditional life you see things differently—spiritually and musically. His first flute came when he was 18 with money he borrowed from his grandmother, and shortly afterward he had the opportunity to meet Native American flute player R. Carlos Nakai who greatly influenced him. When we met he looked at my hands and laughed. He said, "I have that same scar. It's the scar of the flute maker."
In the years since, Robert has continued the evolution of his flute making and has also become an accomplished novelist, poet, craftsman, composer, dancer, actor, painter, sculptor, concert performer and recording artist. His dozen albums of traditional music, rock and roll, and spoken word present a contemporary view of American Indian life that is unequaled. My music is informed by the ceremonial music that I've heard all my life. What I create comes out of my body and soul in a desire to take care of the spirits of the earth. A leading proponent of world music, Robert has merged his indigenous American sound with those of Africa, Asia, and the Caribbean, tapping into a planetary pulse with a style that defies categorization. My travels have provided me with experiences that I could have never imagined, and exposed me to a global sound and a global voice.
Whether as a composer, songwriter, or musician, Robert has won many honors including two-time Native American Artist of the Year, three-time Songwriter of the Year, a 2006 GRAMMY Award for Sacred Ground, and his 2008 GRAMMY Award for Johnny Whitehorse Totemic Flute Chants, blending all of Robert's influences into a musical landscape that conjures up both the historic and contemporary West. His 2002 breakthrough PBS Special, Music From a Painted Cave is unsurpassed in Native American theatrical expression. He is also the author of A Skeleton of a Bridge – a book of poetry, prose, and short stories, and most recently his book, Running Alone in Photographs – a memoir laced with gritty, introspective prose, that opens a window to a palpable experience of life in the Pueblo through the voice of Robert's alter-ego Reyes Winds.
As a theatrical performer, Robert is no stranger to transforming himself. He portrayed Tony Lujan (Taos Pueblo), the famed husband of Mable Dodge Lujan, in the movie Georgia O'Keeffe, a retrospective about artist Georgia O'Keeffe starring three-time Academy Award nominee, Joan Allen. In recent year's, Robert has appeared on Japanese and Italian TV as well as several guest roles on Walker Texas Ranger. "In August of 2012," Robert premiered Po'Pay Speaks, his one-man show in Sante Fe about the leader of the Pueblo Revolt (1680) that is now touring internationally.
above: video biopic short about Robert – premiered August 23, 2019 at the Platinum Music Awards show – created by Bunee Tomlinson of Windswept Media.