Lynn Rene Anderson ~ Taos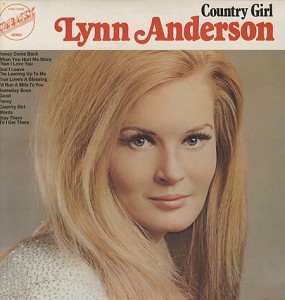 Genre: Country
Anderson (September 26, 1947 – July 30, 2015) was a multi-award-winning American country music singer known for a string of hits throughout the late 1960s, 1970s and 1980s, most notably her 1970 iconic, worldwide megahit "(I Never Promised You a) Rose Garden." Anderson's crossover appeal and regular exposure on national television helped her to become one of the most popular and successful country singers of the 1970s.
Anderson charted 12 No. 1, 18 Top 10, and more than 50 Top 40 hits. In addition to being named "Top Female Vocalist" by the Academy of Country Music (ACM) twice and "Female Vocalist of the Year" by the Country Music Association (CMA), Anderson won a Grammy Award (earning seven nominations), People's Choice Award, and an American Music Award (AMA). She was the #13 country artist of the 1970's according to Joel Whitburn's "Billboard Hot Country Singles" book and the highest ranking artist of the list not yet in the Country Music Hall of Fame.
Anderson was the first female country artist to win the American Music Award (in 1974), as well as the first to headline and sellout Madison Square Garden that same year.
Anderson debuted in 1966, at the age of 19, and had her first hit with Ride, Ride, Ride. After a series of Top 10 hit singles on the country charts during the late 1960s, Anderson signed with Columbia Records in 1970. Under Columbia, she had her most successful string of hits. Her signature song, "(I Never Promised You a) Rose Garden," remains one of the biggest selling country crossover hits of all time. In addition to topping the U.S. country charts for five weeks, the song reached No. 3 on the Billboard Pop Chart. It also topped the charts in several countries around the globe, an unprecedented achievement at the time. CMT ranks "Rose Garden" at No. 83 on its list of the "100 Greatest Songs in Country Music History." Anderson continued to record and remained a popular concert attraction until her death, regularly headlining major casino showrooms, performing arts centers and theaters. Anderson lived in Taos.
Here's Lynn singing her mega hit, "Rose Garden" from 1973.
for more information: lynnandersonshow.com
source: wikipedia.org