Nacio Herb Brown ~ Deming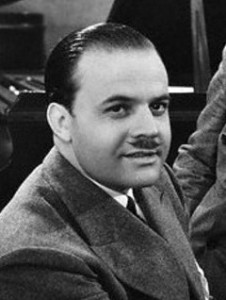 Brown (1896-1964) was born in Deming, New Mexico on February 22, 1896. He attended the Musical Arts High School in Los Angeles, California and graduated with a bachelor's degree from UCLA. After college, Brown started his own tailoring business. A few years after that he then became a realtor accruing a small fortune in Beverly Hills real estate trading. However, none of these paths fit the creative composer and he began his finest career in songwriting in the early 1920's.
In the early days of film soundtracks, Brown signed with MGM in 1928 and under contract would produce some of the greatest Motion Picture scores ever written. He wrote complete scores for films such as Broadway Melody of 1929, 1936 and 1937, Going Hollywood, Sadie McKee, Student Tour, Greenwich Village and The Kissing Bandit. Other films with Brown songs are Hollywood Revue, A Night At the Opera, San Francisco and Babes in Arms. His greatest success would come, however, with the score and title song entitled Singin' in the Rain, written with longtime partner, Arthur Freed.
The Brown catalog holds some of the greatest standards from his era. Accompanying the already mentioned "Singin' in the Rain", Brown also wrote "Temptation", "The Wedding of the Painted Doll", "Eadie Was a Lady", "Pagan Love Song", "All I Do is Dream of You", "You Are My Lucky Star", "I've Got A Feelin' You're Foolin'", "Broadway Melody", "Our Big Love Scene", "A New Moon Is Over My Shoulder", "You Stepped Out of a Dream", "Love Is Where You Find It" and "Make 'Em Laugh".
Brown also composed serious music such as "Doll Dance" and "American Bolero". His Stage productions include the Los Angeles production of Hollywood Music Box Revue and the Broadway production Take a Chance. He co-wrote the music for the popular children's television western, "Hopalong Cassidy" which first aired in 1949. Other than Freed, Brown collaborated with Buddy DeSylva, Gus Kahn, Leo Robin and Gordon Clifford.
He was inducted into the Songwriters Hall of Fame in 1970, and into the New Mexico Entertainment Hall of Fame in 2012.
above: "Good Morning" from Singin' in the Rain (1952) composed by Nacio Herb Brown.
for more information: Songwriters Hall of Fame
source: wikipedia.org