Jeff Bhasker ~ Socorro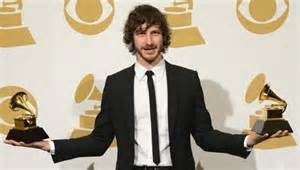 Bhasker (also known as Billy Kraven and U.G.L.Y.) is an American record producer, songwriter, keyboardist, vocalist and multi-instrumentalist. He collaborated with rapper and producer Kanye West on the albums 808s & Heartbreak, My Beautiful Dark Twisted Fantasy and Watch the Throne, with Jay-Z. He has won Grammy Awards for the songs "Run This Town" by Jay-Z, "All of the Lights" by Kanye West, and "We Are Young" by Fun.
Bhasker was born in Kansas City, Kansas, and raised in Socorro, New Mexico. His mother played the piano and his Indian-born father was a medical doctor and the town's mayor for 24 years. Bhasker was introduced to jazz by his mother and his piano teacher. He played in the jazz band at Socorro High School, where he graduated in 1993, and then studied jazz piano and arranging at Berklee College of Music in Boston, Massachusetts. He gigged around Boston as a keyboardist and played in a wedding band. After playing with the '70s era R&B band Tavares, Bhasker moved to New York on September 11, 2001. He toured with the jam band Lettuce and began focusing more on songwriting. One of his first productions was with neo soul singer Goapele, on her album Even Closer (2002). Bhasker produced a song on rapper The Game's first album, The Documentary (2005).
Bhasker relocated to Los Angeles, in 2005. He began writing with Bruno Mars, and songwriter and executive Steve Lindsey served as their mentor. He played cover songs in a band with Mars around Los Angeles.[3] Bhasker then began an association with rapper/producer Kanye West. Initially serving as a substitute keyboardist for West's Glow in the Dark Tour, he went on to become West's music director, and co-producer and co-writer on a number of songs. Bhasker collaborated on West's albums 808s & Heartbreak, My Beautiful Dark Twisted Fantasy and the Jay-Z/Kanye West collaboration album, Watch the Throne, including the songs "Welcome to Heartbreak". "Lift Off", and "Runaway". Bhasker received the Grammy Award for Best Rap Song for West's "All of the Lights", and the Jay-Z/Rihanna/Kanye West song "Run This Town".
Bhasker's collaborations span multiple genres, including writing and production credits on Alicia Keys's 2009 album, The Element of Freedom, including the charting singles "Try Sleeping with a Broken Heart" and "Wait Til You See My Smile", and the album tracks, "Love Is Blind", and "Like the Sea". In 2009, Bhasker produced the songs "Free", "Zombie", and "Heaven" for Natalia Kills, and co-wrote and produced, "Nothing Lasts Forever", from her debut album, Perfectionist, under the alias 'Billy Kraven'. He worked on Beyoncé's "I Care", "Rather Die Young" and "Party" from her 2011 album as a writer, musician and producer.
Bhasker worked again with Alicia Keys on her 2012 album, Girl on Fire, on the singles "Girl on Fire", and "Tears Always Win". He has also worked on the hit singles "Just Give Me a Reason" by Pink, Lana Del Rey's "Summertime Sadness", and Emeli Sandé's "My Kind of Love". Bhasker served as lead producer and co-writer for the band Fun's 2012 album, Some Nights, for which he received the 2013 Grammy Award for Song of the Year for the song "We Are Young". He was additionally nominated for Album of the Year, Record of the Year for "We Are Young", and Producer of the Year, Non-Classical.
Bhasker won the 2016 Grammy for Producer of the year for his work on:

"Ain't Gonna Drown" (Elle King)
"Burning Doves" (Mikky Ekko)
"Burning House" (Cam)
"Grand Romantic" (Nate Ruess)
"Last Damn Night" (Elle King)
"Never Let You Down" (Woodkid featuring Lykke Li)
"Runaway Train" (Cam)
Uptown Special (Mark Ronson)
"Uptown Funk" (Mark Ronson) featuring Bruno Mars also won 2016 Song of the Year.
above: Mark Ronson's official music video for 'Uptown Funk' ft. Bruno Mars – Jeff Bhasker, producer.
for more information: Jeff Bhasker on Twitter
source: wikipedia.org