Arlen Asher ~ Albuquerque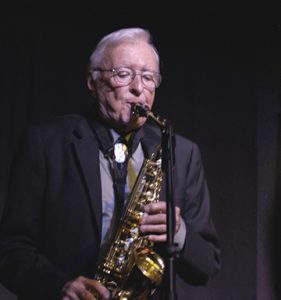 Recipient of the New Mexico Music Commission's 2017 Platinum Music Award, Arlen Asher is one of New Mexico's long-standing jazz luminaries. Born in 1929 in a small farming community in Missouri, Asher moved to Albuquerque in 1958. Prior to becoming a full time musician, he worked as an award-winning producer and announcer for KNME-TV, KOB-TV and KHFM radio. He left broadcasting to establish a private woodwind studio in 1965 and since then has been teaching woodwind fundamentals and jazz improvisation to hundreds of students throughout the US. In the 1970's, he formed the Arlen Asher-Bob Brown Quartet, which formed the basis of two jazz television series for KNME-TV and a series of concerts that included guest artists such as trumpeter Clark Terry. In 1994, Arlen Asher joined drummer, John Trentacosta's group, Straight Up. Asher has appeared on numerous CD's including his own 2002 release, Another Spring , featuring a virtual Who's Who of New Mexico jazz talent. He also appears on Straight Up's recording Live Jazz in the Desert, a top selling local jazz CD in New Mexico. Straight Up has appeared at many jazz festivals, including the Tucson and Sedona Jazz Festivals and Jazz In The Sangres in Colorado. At 84, Arlen Asher remains active as a performer as well as hosting "The Jazz Experience" broadcast every Monday morning on Santa Fe Public Radio station, KSFR. Along with Arlen Asher, woodwinds; Straight Up features leader, John Trentacosta, drums, NY trumpeter Michael Morreale; Albuquerque born, NY based pianist, Tony Regusis; and Michael Olivola, bass.
above: Arlen Asher's tribute video from the 2017 Platinum Music Awards show at the Lensic. Filmed and edited by Bunee Tomlinson of Windswept Media. Produced by the New Mexico Music Commission Foundation, David Schwartz Executive Producer.
for more information: New Mexico Jazz Festival
source: New Mexico Jazz Festival