XIT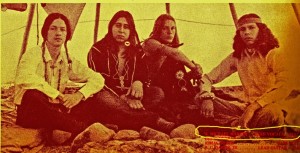 In early 1969,  Mike Martinez, Mac Suazo, RC Gariss, and Lee Herrerra recorded in Clovis, New Mexico at the Norman Petty Studios and the song "Soulful Drifter" emerged from the "Drive It" album. The album was distributed by Mainstream Records. The name of their band at that time was "Lincoln St. Exit."
Groups like Janis Joplin (Pre Columbia Records) and Amboy Dukes (Ted Nugent's group) recorded for the label at the same time.  Soulful Drifter gained radio station play and Exit had a hit record along the Great Lakes Area.  The airplay was enough to catch the ear of Motown records in Detroit.
At that time Motown was looking to increase it's catalog of new artists on their new Rare Earth label and Exit filled the need.  Motown liked the group, a new sound, a new look and a new direction was needed.  So the idea was that they would return to their roots and create.  A new sound in music was born "American Indian Rock." Under the management of Tom Bee the new sound emerged and the new Xit name was born.  The acronym was XIT for Xing of Indian Tribes came about because of some of the group's ethnic background.
The first album for Motown was "Plight of the Redman" released in 1971.  It's a history lesson from the beginning to end sung by member Mike Martinez and tells the story from the beginning of peace in the New World to their struggles with the white man in America and finally to the climatic end of the narrative speech by Mac Suazo.
The album garnered critical acclaim and Grammy consideration.  It is still for sale. The album has withstood the test of time.  Their second album on Motown was "Silent Warrior."
XIT played many venues including the Whiskey A Go-Go in Hollywood and in 1972 the 8th International Music Festival in Venice Italy.  This festival was broadcasted to over 30 million people throughout Europe, along with countless concerts in cities and reservations across the United States and Canada.
Mike Martinez and Mac Suazo started writing songs again in 2007.  These songs have to do with the Plight of the Native Americans but now include world problems.  They have a new CD "Exit From The Rez" available on www.cdbaby.com.  Album CDs on Soar Records www.soarrecords.com.
The band has experienced a number of personnel changes over the years. The original 1969 members of Lincoln St. Exit are now known as "Original Xit" and they are: A. Michael Martinez (singer and lead guitar on Plight), Mac Suazo (narrator and bass on Plight), Lee Herrerra (drums on Plight), and R. C. Gariss (2nd lead guitar on Plight). Original Xit has released 6 CDs since 2006, "eXit From the REZ" (2006), "No eXit" (2007), "eXit nOw" (2008), "neXt eXit" (2009), "The Red Album" (2010) and "Forty Years" (2011)."
above: "Riding Song (Reservation Cowboy)" written by Tom Bee, performed by Tom Bee with Mac Suazo and Willy Bluehouse Johnson of XIT.
for more information: XIT on MySpace
source: Mac Suazo 2007 New Mexico Band History

see also: Tom Bee