New Mexico Music Commission's Student Musician Spotlight
Featured Student: Chevel Shepherd ~ La Plata | Farmington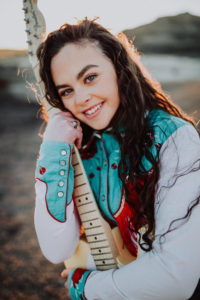 17-year-old Chevel Shepherd stands as living proof that big things sometimes come in small packages. Chevel won America's hearts, and the title of "Season 15 Winner" during her epic run on NBC's The Voice, under the guidance of American Idol winner Kelly Clarkson. Chevel aspires to follow in the footsteps of Mrs. Clarkson, working to emerge as a major recording artist and actress in her own right.
She was raised on country music and the outdoors in her hometown of Farmington, New Mexico – often doing crafts, feeding her animals and fixing up cars with her dad. Chevel has been singing for most of her life, well before auditioning for The Voice; every Friday morning her parents would drive her to the radio station before school and she would sing live on air. As Chevel got older she sang everywhere she could, taking every opportunity.
Chevel loves country music and feels so blessed to be living her dreams and spreading her love of music to all her fans. Recently she partnered with the Professional Bull Riders – recording an exclusive song, a duet with Eddie Montgomery, and performing at the PBR Finals in Las Vegas. Chevel is humbly pursuing her childhood dreams of singing at the Grand Ole Opry, winning Grammys, putting out albums, and touring nationally. She also has an EP with all original music coming out early in 2020.
Chevel was nominated for the Music Commission's Student Spotlight by her mother Julie.
Above: PBR's (pbr.com) official music video for Be Cowboy featuring Chevel Shepherd. All rights remain with PBR and Chevel Shepherd.
For more information about Chevel, visit her:
Chevel's biographical information, image, and video are used with written permission of her mother Julie Shepherd.