Notable New Mexican: Lindy Blaskey ~ Albuquerque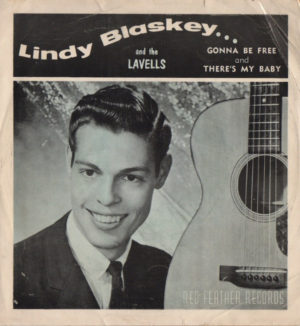 While they never broke big on the national charts, Lindy Blaskey and his band the Lavells were one of the most popular bands in the Southwest during the mid-'60s garage rock explosion. The band's frantic and dance-friendly rock made them the kings of the Albuquerque, NM, teen scene, and their popularity extended across the state. Blaskey sang and played rhythm guitar with the group, while Steve Maase played lead guitar, Art Flore handled keyboards, Carl Silva was on harmonica, Danny Valdez held down the bass, and Chuck Buckley was the drummer. Blaskey also released the band's recordings through his own record label, and their 1966 single "You Ain't Tuff" has surfaced on a number of anthologies of rare and classic garage rock sides. The band's other big hits include "Let It Be" and "Out Here in Viet-Nam". After Lindy & the Lavells broke up, Blaskey stayed in the music business, working as a booking agent in New Mexico and a major-label A&R man in Los Angeles. Blaskey returned to his hometown of Albuquerque in retirement. In 2006, the British Big Beat label released a collection of rare material from Blaskey and his crew, Albuquerque's Finest! The Best of Lindy & the Lavells.
Above: Lindy & the Lavells single Let it Be released in 1967 featuring Lindy Blaskey – Vocals and rhythm guitar, Steve Maase – Lead guitar, Art Flores – Keyboards, Carl Silva – Harmonica, Danny Valdez – Bass, Chuck Buckley – Drums. The recording is from the compilation Mindrocker Vol.5 and the video is from the movie Capriccio All'Italiana: La Gelosia (1968) directed by Mauro Bolognini, with protagonists Walter Chiari and Ira von Fürstenberg.
source: allmusic.com review by Mark Deming