Ivo Watts-Russell ~ Lamy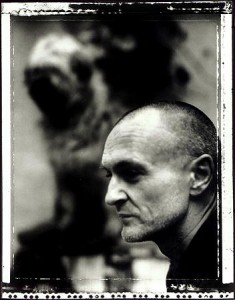 Born 1954 in Northamptonshire, England, Ivo was joint-founder with Peter Kent of the indie record label 4AD. He has also produced several records, although he prefers to use the term "musical director."
One of his better-known productions is the Cocteau Twins' debut Garlands. Presumably, he is the namesake of "Ivo," the lead track of Cocteau Twins' 1984 album, Treasure. He also led This Mortal Coil, writing and selecting songs; choosing the personnel for each song; and occasionally playing keyboards. A few years after the release of This Mortal Coil's final studio album, he founded and produced a band called The Hope Blister which released two albums: …smile's OK (1998) and Underarms (1999). Although 4AD first released Underarms as a limited edition CD, the label reissued it in 2005 as Underarms and Sideways, the second disc of which has seven remixes by Markus Guentner.
After Watts-Russell sold 4AD back to its original distributors, Beggars Banquet Records, at the end of 1999, he turned to a career in art and photograph publishing.
Ivo currently resides in Lamy, New Mexico.
above: 'Ivo' by the Cocteau Twins, from their 1984 album, Treasure
for more information: 4AD
source: wikipedia.org