Bri Bagwell ~ Las Cruces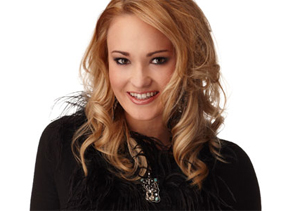 If you ask Bri Bagwell where her current "home" is, you'll most likely get a chuckle and a sigh. The Las Cruces, NM native will always be in love with her hometown, but she is in a 15-passenger white van or on an airplane more than she is anywhere else. The highway truly has become her home.
With more than 120 tour dates per year, Miss Bagwell describes performing as her "ultimate passion" in life. She also somehow finds the time to write for her publishing company (Sony/ATV Music Publishing), by flying back and forth to Nashville during the weekdays for writing appointments. She started her band, awesomely entitled "The Banned", in 2011 after a top 10 finish on CMT's Next Superstar, a singing competition and reality show.
She released her first album "Banned from Santa Fe" in summer of 2011, and a self-titled EP in September of 2013. Both have sold through multiple printings, and she has had impressive success on the Texas Music Chart, especially for a female. She has been named Texas Female Vocalist of the year for 2013 and 2014, but she says her biggest accomplishment is a full calendar of tour dates and a growing fan base.
She is booked by William Morris out of Nashville, but operates with no management or record label. Her popularity is 100% word-of-mouth and self-promotion. Not to say she isn't hopeful for both of those in the future…
If you haven't heard her before, check out her breakout single and video "Whiskey" and her latest single, "Crazy." She has an earthy tone with tons of sass. Traveling non-stop in a van (full of boys) that needs oil changes more than once a month, she has earned respect in her scene and is ready to rise to the next level of country music stardom.
above: Bri's single, 'Crazy' ~ produced by Daran Herrman of ColoredLion.com and directed by Paul De La Cerda.
for more info:
source: ReverbNation