David Wade ~ Albuquerque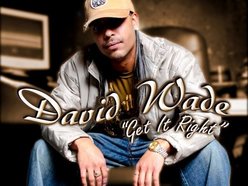 David has quickly become the "Come to" Guy in the Southwest Entertainment industry for everything from Radio hits to Business consultation and makes a name for New Mexico by bringing an international presence to the region with world wide collaborations and networking. David Wade has independently secured and worked with such companies as Sony, EMI, Universal and Upstairs Records just to name a few with 2 GOLD albums being produced in the process. He has had over 5 songs on mainstream radio and reached billboard top 100 in 2005 with Lil Robs "Can We Ride" Featuring David Wade.
Wade has written, produced and is featured on over 160 of the hottest and most well known hip-hop, Pop and R&B records worldwide and remains the face of the Southwest music and entertainment movement. His resume reads like a who's who in Rap, Pop & R&B: Baby Bash, Lil' Rob, Angelina, Frost, Jay Tee, Fade Dogg, Clicka One, The New Ridaz, etc. are among the many artist to use his services. His voice is instantly recognizable and his hooks unparalleled. Whether writing the latest radio single, singing the hook for another artist, or performing to Sold out crowds, David Wade continues to bring nothing but quality entertainment and a mind for business that will insure he remains one of the Southwest's top Rap, Pop, and R&B artists.
above: Wild Soul – Something Like A Mixtape by David Wade; Director/ First Camera/ Editor Margaret Thompson; Second Camera Alexander Catedral. www.megannetmedia.com
for more information: davidwade
source: reverbnation.com