Jono Manson ~ Santa Fe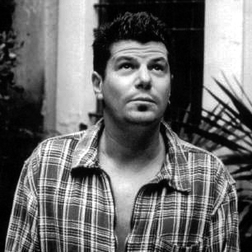 Jono is a prolific singer/songwriter and seasoned performer, with a long track record that includes major-label releases as both recording artist and producer. During a career spanning almost four decades he has performed everywhere from the local dive to Madison Square Garden, from house concerts to festival stages. He has released numerous albums and amassed a vast catalog of original material.
His songs have been recorded by Grammy Award – winning artists and have been featured in major motion pictures, on network television and in national advertising campaigns. He continues to collaborate with a wide range of artists as a co-writer and producer, and as a member of numerous side projects. He also owns and operates a recording studio in the hills north of Santa Fe, New Mexico, where he also lives.
On May 31st 2014 Jono was the recipient of the 2014 "Norman Petty Producer Award" (Producer of the Year) from the New Mexico Music Awards.
Recently, Jono's recording of "Honky Tonk in My Mind" was featured on the CW Network series "Hart of Dixie". Three of Jono's songs appear on the new album by "American Idol" alum Crystal Bowersox (2013 Shanachie Records), and he is the co-producer of her forthcoming EP to be released in the summer of 2014. Another Manson composition was recorded by Blues Traveler for their most recent release (2012 429/Savoy Records). Four of his songs are featured in the new family film "I Heart Shakey" (2012 Amarok Films). He has also been collaborating closely with the Colorado – based band "Brother's Keeper", whose debut album will drop on August 8th, 2014. Manson plays and sings on the album which he  co-produced along with the band, and he also co-wrote much of the material for the project. Jono plays live with Brothers Keeper as often as schedules allow. He has also been touring extensively throughout the continental United States as a solo artist and as a member of John Popper and the Duskray Troubadours and also performed three European tours in the last two years. While not on the road, Jono has spent most of his time writing songs and producing records.
Recent projects produced by Manson include albums for Santa Fe's favorite alt-country rockers Anthony Leon and the Chain, Grammy-Award winner John Popper (Manson also co-wrote much of the material for this project), Tao Rodriguez-Seeger (grandson of folk icon Pete Seeger), NM Music Award winners Jaime Michaels (Album of the Year) and Kito Peters (Best Humorous/Novelty), Southern California roots-rocker Lee  Simpson, Stefano Barotti, Momo (Sony/BMG) and The Barnetti Bros. (Universal Records). Jono also recently recorded and/or mixed records for David Berkeley, Jeff Scroggins and Colorado, Italian rockers Mojo Filter, Shurman from Austin, TX, and many others. Manson was honored with a NM Music Award for "Producer of the Year" for his work with Michaels. He is currently producing albums for legendary Italian roots-rockers The Mandolin Brothers, folk singer/songwriter Daniel Boling, and Pakistani Sufi/Folk rockers The Sketches. See the production and discography sections of this site for more information.
Jono's newest album, "Angels on the Other Side" was released in March of 2014.
Jono comes from a family full of creative people. For example, his mother was a principle member in the Martha Graham dance company, who also worked alongside the likes of Merce Cunningham, John Cage, and Leonard Bernstein and Jono's cousins are the filmmakers Joel and Ethan Coen. So, it's not surprising that he formed his first all-original band in 1968, at the age of seven and, from that moment on, never looked back.
Manson fronted many groups throughout his school years, always playing original music. He became a full-time professional musician at the age of 19, when he began working almost nightly in bars and clubs in his native New York City. In 1981, along with legendary NYC guitarist Simon Chardiet, he founded "Joey Miserable and the Worms" (which later became just "The Worms"). The six piece band played it's own infectious blend of jump blues, funk, rockabilly, country and R&B. To this day, Manson's songwriting reflects a wide range of styles, and defies easy classification. During his ten years with the Worms, Jono played repeatedly in virtually every live music club on the New York scene, including Max's Kansas City, Dan Lynch's, CBGB, The Ritz, Peppermint Lounge, the Lone Star Cafe and, of course, the now legendary Nightingales.
While playing with the Worms, Manson also found time to participate in numerous side bands such as "The Mighty Sweetones" and "The Dogs" , and the "Les Ismore Orchestra", to name just a few. These Manson side-bands also included members of other infamous NYC bar bands such as "The Blue Chieftans", "God Street Wine", "The Five Chinese Brothers", "Mumbo Gumbo", and "The Surreal McCoys". Jono recalls several years in the mid-1980's when he played over 365 gigs a year, without ever leaving New York City. Towards the late 1980's Manson did, however, begin touring outside of New York. The Worms' two independently released albums had become favorites on college radio playlists across the midwestern USA and the group followed the trail. The band had a short-lived development deal with CBS/Epic Records, who chose not to release an album, and in 1990 they played their last show.
It was during this period Manson opened his first recording studio in Brooklyn, NY, and began recording and and producing countless other artists, an activity that he continues to this day.
In 1993 Manson, feeling that he needed a change of scenery, moved from his hometown and resettled in the mountains of northern New Mexico, where he quickly set up a new home base. In no time he was up to his old tricks, playing locally, touring nationally, writing and recording solo projects and producing music for local musicians.
In December of 1995 Manson's album "Almost Home" was released on A&M Records. The album featured, among others, members of Blues Traveler, The Allman Bros. Band, and The Rolling Thunder Review.
In the summers of 1995, 1996 and 1997 Manson played as part of the H.O.R.D.E tour alongside Sheryl Crow, Dave Mathews, Taj Mahal, Pete Droge, Lenny Kravitz, Neil Young, and many others. When not on the road with his own band, or as the lead singer for "High Plains Drifter", he could be found working the clubs in his adopted home of Santa Fe NM
In 1998 "Little Big Man", produced by Manson's old pal from his NYC days, Eric "Roscoe" Ambel (Del Lords, Steve Earle, Yayhoos), was released on Paradigm Records. That same year, the Italian label "Club de Musique" released Manson's independently produced "One Horse Town", marking the beginning of the artist's European career. Jono has toured in Europe every year since, playing gigs in Denmark, Switzerland, England, Ireland, France and of course Italy where, to date, six of his self- produced CDs have been released.
His work as a producer also expanded into the European market. He has completed a range of projects including two albums for singer/songwriter Stefano Barotti, and Italian pop phenomenon Momo (Sony/BMG). In fact, Manson became so intensely connected to the Italian music scene that at one point he decided to pull up stakes and relocate. He made his base in Italy from 2003-2006.
Manson has also made many guest appearances on a many outside projects, both as a instrumentalist and vocalist, ranging from homegrown indie projects to multi-platinum albums. He has also lent his voice to a growing number of voice-overs and commercial jingles. He has also been the subject of a one hour episode of the "House of Blues Radio Hour" (in which he was interviewed by Dan Ackroyd aka Elwood Blues), as well as an episode of VH-1 "Tuned In", both of which aired nationally in the USA.
In addition to all of the above, Jono has a growing number of film and television music credits to his name. Most notably, he wrote and produced several songs for Kevin Costner's "The Postman, in which he also had a small on-screen role, and his recording of "Miss Fabulous" is featured in the Farrelly Brothers' hit movie "Kingpin".
Musicians on Jono Manson's CDs include:
Warren Haynes, Mark Clark, The James Brown Horns,Tom Brumley, Nicky Hopkins, Ian Wallace, Wally Ingram, Paolo Bonfanti, Beppe Gambetta, Eric "Roscoe" Ambel, Joe Flood, James Wormworth III, Mike Merritt, Craig Dreyer, John Popper, Howie Wyeth, Kevin Trainor, Eric Schenkman, Joe Terry, Mary Lee Kortes, Bobby Sheehan, Chan Kinchla, Steve Lindsay, Ron Sunshine, Jerry Dugger, Sharon Gilchrist, Tom Adler, Peter Williams, and others.
Jono Manson has perfomed and/or worked in the studio with:
Blues Traveler, Roscoe Gordon, Bo Diddley, Barrett Martin, Joan Osborne, Dr. John, Taj Mahal, Bruce Willis, Carol King, Phoebe Snow, Paul Shaeffer, Mumbo Gumbo, Wally Ingram, Amy Grant, Leland Sklar, Willie Green, Ramblin' Jack Elliot, Billy Bragg, Bob Weir, Buddy Cage, Bernie Worrell, Steve Earle, Taj Mahal, Kris Kristofferson, Terry Allen, Emmylou Harris, Arlo Guthrie, Bruce Sprigsteen, Patterson Hood, Keller Williams, Eric Weissberg, Joan Baez, Toshi Reagan, Ani DiFranco, Richie Havens, Warren Haynes, Pete Seeger, Tao Rodriguez – Seeger, Chris Barron, The Holmes Brothers, Kevin Costner, and many many others.
Jono Manson currently resides in Santa Fe, New Mexico. When he is not on the road, he continues to perform in area venues, but spends much of his time working on a wide range of projects in his recording studio.
Jono is not currently signed to a record deal and is, for the moment, self-managed. At present he owns 100% of the publishing of his rather extensive catalog (administered by Bug Music), and he also controls the rights to all of his master recordings, with the sole exception of his 1995 A&M release "Almost Home".
above: "Angels on the Other Side" – Words and Music by Jono Manson and Caline Welles Magic Request Music / BMI, Administered by Little Brother Music www.jonomanson.com From the album "Angels on the Other Side" (2014 Con Artists Collective / Appaloosa).
for more information: jonomanson.com
source: jonomanson.com