Max Baca ~ Albuquerque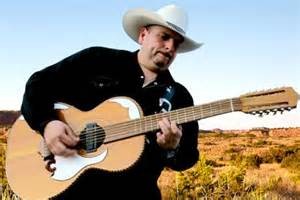 Born and raised in Albuquerque, Max founded the conjunto band, Los Texmaniacs, in 1997, which incorporated elements from genres such as rock and roll and jazz while still honoring the roots of conjunto tejano. He has played on numerous Grammy winning albums.
Combine a hefty helping of Tex Mex conjunto, simmer with several parts Texas rock, add a daring dash of well-cured blues, and R&B riffs, and you've cooked up the tasty TexManiacs groove. Not to say that this group's sound is for musical gourmets only… it is,  "hip music everyone can relate to" .
Los Texmaniacs — feed the masses, with only the best in musical fare. Founded by Max Baca (bajo sexto, vocals), the TexManiacs are a product of his wide-ranging experience touring and recording with everyone from his father's family conjunto, Flaco Jimenenz, the original Texas Tornados, Los Super Seven  and even the Rolling Stones.
Max is a legend on the bajo sexto, a twelve string guitar-like instrument, which customarily provides rhythm accompaniment for the button accordion, thus creating the core of the conjunto sound. On the bajo, Max does all that and way more, using the instrument to push the TexManiacs sound to another level of vibrancy altogether. He has displayed a musical virtuosity and blistering guitar riff solo style, that is now being emulated by young bajo players internationally. Max is being credited as turning a traditional folk / roots/conjunto instrument hip again, attracting young, new audiences while maintaining his roots in traditional conjunto. His many sojourns as a life long musician have resulted in an impressive international touring schedule, including four tours to Iraq, Bosnia, Afghanistan, and Kosovo to entertain our troops. Max has appeared on national television programs such as Conan O' Brien, David Letterman, Jay Leno, and Austin City Limits. Max has also bee featured in several PBS documentarys such as: Songs of the Homeland, American Roots Music, and Latin Music USA. Max has also participated on ten Grammy winning projects including the double-platinum CD for the Rolling Stones Voodoo Lounge (Virgin 96). Max' most recent Grammy was earned with his band, Los TexManiacs Jan 30th 2010 for Borders Y Bailes (Smithsonian Folkways) 2009.
Like a great salsa., the Texmaniacs mix the simplest yet finest ingredients of Texas music to create a sound solidly rooted in tradition, exploding with contemporary vitality. Texmanics versatiility has led them to performances such as The Smithsonian Folklife Festival, International Accordion Festival, Kennedy Center , Governor of Texas Ball and many major festivals oversees in countries such as Germany, Holland, and Spain.
Los Texmaniacs have been awarded proclamations as ambassadors of good will from several goverment entities such as : Cities of San Antonio Texas, Austin Texas , Los Angeles California , and Alberquerqe New Mexico.
Their first CD, A Tex Mex Groove,(2004) contains a wide sampling of musical focus that is characteristic of the group. It also hosts a legendary line-up of guest artists, such as Flaco Jimenez, Augie Meyers, and Ruben Ramos, and Los Lobos, who share the TexManiac take. The second CD,"About Time"(2007) peaked at #1 on the Tex-Mex charts. Los Texmaniacs current CD is the Grammy Award winning "Borders Y Bailes" for Smithsonian Folkways (2009). Smithsonian Folkways is the record label of The Smithsonian National Museum of The United States.
This project further cemented Los Texmaniacs, rightful place in history as master musicians in their respective musical disciplines. So don't just stay for supper, make sure you stick around for dessert.
above: Los Cenzontles and members of Los Texmaniacs, Max and Josh Baca, perform Margarita Margarita, Jan 8, 2015 at Yoshi's Oakland. David Hidalgo on guitar.
for more information: texmaniacs.com
source: texmaniacs.com