The Handsome Family ~ Albuquerque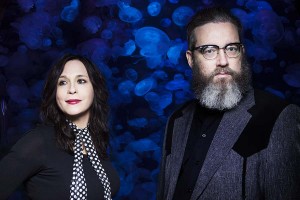 Enter the dark forest of The Handsome Family. This is haunting and beautiful music— brilliant, emotionally-charged and totally unique. Maybe you just discovered them (like the 3 million people who've watched the True Detective opening montage on youtube)? Maybe you've been following them for the last twenty years? Either way you'll be happy to know that The Handsome Family are far more than just the band that wrote the song, "Far From Any Road" which was used as True Detective's main title theme.
The Handsome Family is an alternative country and Americana duo consisting of husband and wife Brett and Rennie Sparks, with nearly 15 albums to their name. Originally from Chicago, they have lived in Albuquerque, New Mexico since 2001.
May, 2013 was the release of The Handsome Family's Wilderness, a record about animals (frogs, flies, wildebeest, octopuses, lizards…), but in lyricist Rennie Sparks' hands the wonders of nature are intertwined with true stories of Stephen Foster's death in a Bowery flophouse, General Custer's shiny boots as he lay dead on a Montana prairie and the capture of Mary Sweeney, the Wisconsin Window Smasher of 1896. There are also tall tales of the octopus's hypnotic sea-dance, the frenzied mayhem of a town afflicted by a golden lizard's bite and an enormous mansion full of screeching owls. Musically you'll hear everything from parlor ballads to overdriven guitars, trilling mandolin and clawhammer banjo, but also beautiful bells, intricate seven-part harmonies, pedal steel and elemental rock 'n roll.
The Handsome Family is a 20-year songwriting collaboration between husband and wife, Brett (music) and Rennie Sparks (words). Their lyrics and music are very intense, highly descriptive and full of meticulously-researched narrative and exhilarating musical re-imaginings of everything from Appalachian holler, psychedelic rock, Tin Pan Alley and medieval ballad. Of course you don't have to be a music historian to love these songs. They are full of romantic longing for nature's mysterious beauty and the tiny wonders of everyday life. They pair sweet melody with sad harmony, love poetry with dark beats. This is music that makes you shiver and cry, but also makes you happy to be alive.
Wilderness, the CD has a companion release in a book also entitled Wilderness which contains essays and art by Rennie Sparks. The book expands and intertwines the ideas of the CD, making you consider anew everything from ant spirals and woodpecker tongues to the immortal jellyfish and the secret language of crows. The black and white version of the book will be published by The Handsome Family while Carrot Top Records will be releasing a deluxe box set of Wilderness which includes a full-color, fine-art version of the book, the LP and also a poster and postcards featuring Rennie Sparks' colorful animal imagery.
The Handsome Family's music and lyricism has always attracted intellectual and devoted fans. Their songs are frequently covered by many notable artists including Jeff Tweedy, Andrew Bird, Kelly Hogan and Christy Moore. Their work has garnered praise from Bruce Springsteen, Ringo Starr, and an unnamed singer on American Idol.
Wilderness is The Handsome Family's ninth studio album of strange and compelling music. The Handsome Family's 2009 release, Honey Moon was an album of love songs, but the lovers found within these tracks were a praying mantis, a sleeping bird, a cement truck, and a puddle. The previous record, Last Days of Wonder (2006), was a paean to beacons of the last century from polar explorers and Nikola Tesla to the first abandoned shopping carts and lone shoes thrown over telephone wires.
The band has appeared in the movie, I'm Your Man (2005), a tribute to Leonard Cohen as well as Searching for the Wrong-Eyed Jesus (2004), a back roads travelogue of arcane Americana music. They have appeared on numerous Irish TV shows as well as Jools' Hollands' Later.
The Handsome Family record all their songs in a converted garage studio at the back of their house in Albuquerque, New Mexico, USA. Sometimes live they are a duo (Brett on guitar/vocals, Rennie on banjo/bass ukulele/vocals, sometimes accompanied by a drum machine), but often of late they are joined by percussionist Jason Toth.
A live review by Mike Ritchie in The Scotsman noted, "There's a lot of smiling at this gig, on and off stage. That might surprise many people who have only read about the duo's penchant for songs riddled with darkness, death and the macabre. But Rennie Sparks and her husband, Brett are funny live…through their chit-chat, the song introductions and the banter with the audience…this sell-out show was a knockabout celebration of the deadpan, a real joy… Rennie's words plus Brett's music and strong, mellow vocals create a magical potion of grim fairytales in a rock and blues pot with grinning unavoidable."
The Handsome Family are honored to note that June, 2014 was the release of Andrew Bird's, Things Are Really Great Here, Sort Of, an entire record of Handsome Family songs!
above: True Detective – Intro / Opening Song – Theme, The Handsome Family – Far From Any Road.
for more information: handsomefamily.com
source: handsomefamily.com