New Mexico Music Commission Foundation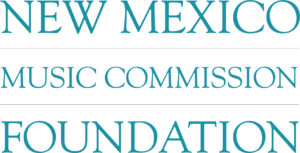 The New Mexico Music Commission Foundation was established in 2012 by Lee Berk and David Schwartz and is a 501(c)(3) non-profit organization.
Purpose
The foundation was created to garner private sector support for Music Commission initiatives. It has two primary functions:
Development: produce fundraisers, seek donors, sponsors, benefactors, write grants, serve as the Music Commission's fiscal agent;
Volunteerism: provide volunteer support to assist in the delivery of Music Commission events and projects.
Key Projects
Platinum Music Awards Show: The Music Commission entrusted the Foundation with production, media, development, and sponsorship of the 2017-2019 Platinum Music Awards shows.
Music in Schools: The Foundation partnered with the Santa Fe Public Schools to produce a Visiting Artist program from 2017 to 2019. Professional musicians were hired to deliver assemblies, master classes, clinics, sectionals, and lessons to SFPS music students.
Musicians Tax Credit Proposal: The foundation worked closely with the music commission, state legislators, and the Department of Economic Development during the 2019 legislative session to draft a proposed musicians tax credit designed to compliment the existing tax credit incentives to the state's film industry.
Music Biz Monthly Webinar: In 2020, the foundation produced a brief series of Zoom interviews and panel discussions posted on YouTube that featured prominent New Mexico music industry professionals.
Foundation Board
David Schwartz ~ Santa Fe ~ President
Phil Moon ~ Santa Fe ~ Director
Trish Parks ~ Santa Fe ~ Secretary
Steven Malcolm ~ Santa Fe ~ Chief Financial Officer
Gary Storm ~ Santa Fe ~ Legal Counsel
Linda Storm ~ Santa Fe ~ Board Member
Rod Kennedy ~ Albuquerque ~ Board Member

Get Involved
Click here to to inquire about volunteering with the foundation.