Music Commission Secretary, Sara Diaz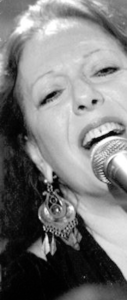 Bio
Five-time Telly Award winner Sara Diaz doesn't remember a time when she wasn't singing. By the age of five years old, her parents recognized her talent and sent her to Rayna Krasner's School for Singing and Dramatics in Chicago; she studied with Rayna from age five through her second year of high school.
Sara started performing at the ripe young age of 7 years old, singing songs from the Great American Songbook and some popular songs of the day. Much to her parent's chagrin, her ears were listening to the R & B/soul (and of course The Beatles) and the thumping bass lines of the popular sounds of the day. All she wanted was to be a singing bass player in a rock n roll band, but that was not to be…
At the age of 17 her family up and moved to Los Angeles, where she was enrolled in a brand new college in Culver City, CA., as a voice major. Things took a hard turn when she was recruited to the theater department in that school, ostensibly to perform in musicals. Sara continued to take more professional level voice and performance lessons, audition, and eventually became a go-to for songwriters who needed their compositions recorded for demos, to sell to established artists, television and film music supervisors, etc. She preferred the studio work to live performance.
One fateful day her theater professor took her to the famous closing auctions at MGM Studios, where she sat right next to one of her costume design touchstones, the famous film costume designer Edith Head, during the famous 'Wizard of Oz" auctions and once again, she experienced a complete shift and was guided to further her education at what was at the time, the preeminent school for costume and fashion in Los Angeles.
Still singing demos and going on auditions, Sara and two of her design school classmates opened an atelier in Beverly Hills, and as fate would have it, she started designing and creating clothing for musicians, some of them household names.
As life would have it, Sara married a musician and once again her career took a new turn to video and TV production, specifically fashion/music TV, ultimately working with Fortune 50 companies in the fashion world, creating their global fashion/trend reports, and transforming the industry standard, from slide shows to music video-style presentations. Her music background proved to be instrumental in creating evocative, compelling, and highly successful programming, yielding five Telly Awards. Music was always in the mix as a way to tell the story…