Commissioner Seifert ~ Roosevelt County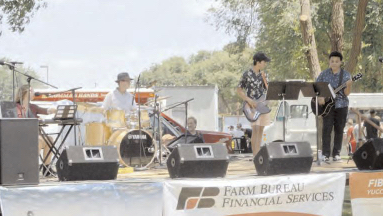 The Groove, a band of high school musicians from Curry and Roosevelt Counties performed at the Portales Heritage Days Festival, Saturday July 17, 2021. Pictured from left are Kyra Gentray-keyboard, Stratton Seifert-drums, and Caden Smith-bass from Portales, and Josiah Ewana-guitar from Clovis. The band was organized, rehearsed, and produced as part of the Music Commission's Rural County Outreach program by Stratton's dad Commissioner Dustin Seifert.
Below is a write-up in The Eastern New Mexico News by staff writer Steve Hansen.