Leonard Felberg ~ Albuquerque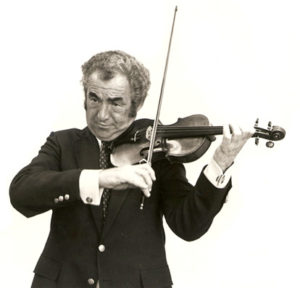 Leonard "Lenny" Felberg (1931-2018), Professor Emeritus at University of New Mexico, esteemed violinist, and internationally known violin pedagogue was born in Brooklyn, N.Y., October 1, 1931 to Russian immigrants, Esther and Philip Felberg. Lenny loved his Brooklyn childhood. He remembered riding the New York subway trains all night on a single ten-cent token, eating favorite knishes at Katz's Deli, playing stickball in the street and going to Coney Island on hot summer days. He began violin studies at the age of nine and often attended Carnegie Hall concerts, where he was introduced to performances by the great violin masters of the early 20th c. "golden" period. Stickball gave way to practicing, but he still insisted his father carry the violin on the way to lessons, so the other kids wouldn't tease him.
After receiving B.Mus. and M.Mus. degrees from Yale University, where he studied with Joseph Fuchs and was awarded the distinguished Horatio Parker Fellowship, Lenny joined the 7th Army Symphony, where he was featured soloist performing the Tchaikovsky Violin Concerto on tours of France, Germany, Luxembourg and the British Isles. After Army service, he was accepted into one of the world's leading orchestras, The Concertgebouw Orchestra of Amsterdam, serving under legendary conductor Eduard Van Beinum for 3 years.
Returning to the U.S., he began Doctoral studies in Violin Performance and Pedagogy at Indiana University, simultaneously accepting a violin professorship at the University of Georgia. At I.U. he studied with Daniel Guilet, and was mentored by renowned violinist/teacher, Josef Gingold and cellist Janos Starker, with whom he studied chamber music. Prof. Gingold was instrumental in bringing him to perform at the June Music Festival in the summer of 1965, where he became acquainted with New Mexico, his future home. While at I.U., he met and married fellow Doctoral student in Piano Performance, Arlette Zendmeer. The couple joined the faculty of the University of Toledo, during which he performed summers with the Berkshire Quartet, taught at Syracuse University and, as violinist of the Toledo String Quartet, won a medal at the Geneva International Competition.
The Felbergs moved to Albuquerque when he was offered the Violin Professorship at The University of New Mexico. With the formation of The Seraphin Trio came a period of intense concert productivity as well as teaching and performing workshops; he gave master classes throughout the U.S. and Brazil and accepted the post of Concertmaster of The Santa Fe Symphony for 25 years. He appeared as soloist with orchestras throughout the southwestern United States; in chamber concerts, in music festivals and symposiums all over Mexico and New Mexico. He is a 1992 recipient of the "Artist of the Year" Bravos Award, performed for most of his career on a 1740 Stradivarius violin and was known for his warm, rich tone, as well as his flair and virtuosity.
Prof. Felberg has had a revered, distinguished teaching career, and a large diversity of students came to him from all over the world in search of his enormous pedagogical knowledge, disciplined, analytical and innovative technical solutions, and his creative approach towards fingering, which many students now guard sacredly. He taught with great humility and conscience, and was patient and kind in the studio. He influenced and inspired, and many of his students have gone on to careers in major orchestras, major conservatories and universities all over the world, to careers as soloists, chamber musicians, and mentors to the next generation of violinists.
Lenny lived a full, rich life with meaning, he adored his family, his numerous lifelong friends and his students, and had an unrivaled sense of humor, punctuated by his raucous laugh right before the punchline. He loved opera, world travel, reading history books, golf (where he shot a hole-in-one on two separate occasions) and, above all, he worshiped anything to do with his instrument.
source: Albuquerque Journal, from Mr. Felberg's obituary published November 25, 2018.
No copyright is claimed in the above creative examples and to the extent that material may appear to be infringed, the New Mexico Music Commission asserts that such alleged infringement is permissible under fair use principles in U.S. copyright laws. If you believe these materials have been used in an unauthorized manner, please contact us.