Music Commissioner Dustin D. Seifert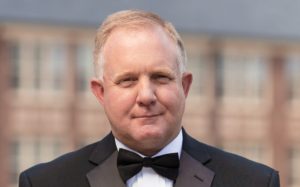 Music Background
Director of Bands, Eastern New Mexico University
Administrative Background
Department Chair, Eastern New Mexico University
Executive Secretary, Southeast New Mexico Music Educators Association
Past-President, New Mexico Music Educators Association
Education
MME Music Education
University of Illinois at Urbana-Champaign
BME Music Education, summa cum laude
The University of Akron
Hometown
Lancaster, Ohio
Residence
Portales, Roosevelt County
Appointment
August 5, 2020 by Governor Lujan Grisham
Commission Term
5 August 2020 ~ 6 May 2022
Committees
County Liaison

Bio
Dustin D. Seifert, a native of Lancaster, Ohio, is Chair of the Department of Music and Director of Bands at Eastern New Mexico University (ENMU). Mr. Seifert received the B.M.Ed., summa cum laude, from The University of Akron and the M.M.Ed. with an emphasis in instrumental conducting from the University of Illinois where he was the recipient of the Guy M. Duker Award. His mentors include Richard L. Cass, Michael R. Golemo, Robert D. Jorgensen, Tucker R. Jolly, James F. Keene, Gary E. Smith, Mark E. Moore, and Deborah A. Confredo.
In addition to his administrative duties as Chair of the Department of Music, Mr. Seifert is also responsible for the operation and organization of a comprehensive undergraduate instrumental program. Dustin conducts the Wind Symphony, Symphonic Band, and Greyhound Sound Marching Band, and teaches applied euphonium and tuba. Mr. Seifert leads courses in low brass teaching techniques, techniques of marching band, band and wind ensemble history and repertoire, secondary instrumental methods, and beginning and advanced conducting. The ENMU Bands offer several important outreach events annually including the Green and Silver Classic Marching Band Festival, Hound For A Day marching band immersion event for high school students, and the ENMU Band Director Workshop – "The New Mexico Thing".
Widely honored as a Music Educator and conductor, Mr. Seifert received the "Spirit of Eastern Award" in 2004 acknowledging outstanding contributions, dedication and loyalty to ENMU over a sustained period. He was the 2005 recipient of ENMU's Presidential Award for Excellence in Teaching. Dustin has been recognized as a Distinguished Alumnus in Music Education by The University of Akron School of Music and as Music Educator of the Year by the New Mexico Music Educators Association.
Prior to his appointment at ENMU, Mr. Seifert served as Assistant Director of Bands at Iowa State University (ISU). At ISU, he conducted the University Band and Musical Pit Orchestra, designed drill for and rehearsed the Sudler Trophy winning ISU Cyclone Football Varsity Marching Band, taught low brass methods, applied low brass, and courses in music education.
Dustin is a member of the New Mexico Music Educators Association, National Band Association, National Association for Music Education, College Band Directors National Association, Texas Music Educators Association, Kappa Delta Pi Education Honorary, and Pi Kappa Lambda Music Honorary. He is an honorary member of national honorary band fraternities Kappa Kappa Psi and Tau Beta Sigma, Phi Mu Alpha Sinfonia, and Phi Beta Mu International Bandmasters Fraternity. Mr. Seifert currently serves as Southwest Division Chair for the National Band Association, Executive Secretary for the Southeast New Mexico Music Educators Association, is a member of the Collegiate Advisory Council of National Association for Music Education, and served as Music Director of the Clovis (NM) Community Band for eight seasons. He is a Past President of New Mexico Music Educators Association.
Dustin is an active clinician, guest conductor, and adjudicator throughout the region, state, and nation. He has conducted honor bands in Alaska, Iowa, Mississippi, New Mexico, Ohio, Oklahoma, and Texas. When not musicing, Dustin and his family are very involved in numerous community service projects. Mr. Seifert is not above taking a pie in the face to benefit an ENMU student organization or the United Way of Eastern New Mexico. He resides in Portales, New Mexico with his wife, Meredith, son, Stratton, and daughter, Sawyer Jean.
Creative Examples
These examples cite Seifert's work as a music industry professional in the private sector.
Eastern New Mexico University Department of Music
Eastern New Mexico University Bands
Eastern New Mexico Wind Symphony in concert 21 October 2018. Dustin Seifert & Sidney Shuler, conductors.  Alleluia! Laudamus Te (1973) by Alfred Reed (1921-2005); Symphony No. IV: Bookmarks from Japan (2013) by Julie Giroux (b. 1961) I. Fuji-san – Mt. Fuji, II. Nihonbashi – Bridge Market, III. The Great Wave off Kanagawa – The Life of One Wave, IV. Kinryu-zan Sensoji – Thunder Gate, V. Evening Snow at Kambara – Light is the Touch, VI. Hakone – Drifting; Hands Across the Sea (1899) by John Philip Sousa (1854-1932).
Somewhere Over the Rainbow by Harold Arlen performed by Dustin Seifert euphonium (c) 2020.
ENMU Alumni Concert Band performing Benediction by John Stevens dedicated to J.D. Frye (longtime Director of Bands at Lovington High School) and J.D. Gormley (owner of Music World in Hobbs) conducted by Dustin Seifert (c) 2012.
No copyright is claimed in the above creative examples and to the extent that material may appear to be infringed, the New Mexico Music Commission asserts that such alleged infringement is permissible under fair use principles in U.S. copyright laws. If you believe these materials have been used in an unauthorized manner, please contact us.