New Mexico Music Commission's Student Musician Spotlight
Featured Student: Zea Rose ~ Albuquerque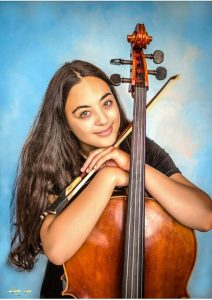 Zea Rose is a 17 year old senior at Albuquerque High School. With no prior music experience, she began her study of cello at the age of 11 with Anastasia Nellos. After only nine months of playing, she auditioned for the Albuquerque Youth Symphony Program and was accepted into the Albuquerque Junior Orchestra. Since then, she has re-auditioned every year and climbed her way to the top group, the Albuquerque Youth Symphony itself. She has been in this specific ensemble since her sophomore year of high school. Last year, she auditioned for the Albuquerque Youth Symphony Castro Concerto Competition with the Rondo for Cello in g minor by Dvorak and won second place. This placement allowed her to play her concerto piece while being accompanied by the Albuquerque Youth Symphony. Through her performance in the competition, she was recognized by the New Mexico Philharmonic and was given the opportunity to play her concerto piece for one of their Youth Concerts. For the past three years, Zea has auditioned for and performed in the New Mexico's Music Educators Association All-State Music Festival. In her sophomore year, she was accepted into the All-State Concert Orchestra, and in her Junior and Senior years she was accepted into the All-State Symphony Orchestra. Zea has performed multiple paid gigs throughout her musical career, everything from weddings to recordings for short films.
In school, Zea participates in as many music classes as she can. Currently she is in her school's top orchestra, Albuquerque High's Sinfonietta, her school's choir and Early Music Ensemble after school club. Additionally, Her favorite subject is math, calculus especially. She loves learning foreign languages such as Japanese, and she spends the majority of her time at school in the orchestra room. Zea plans to major in mathematics for her undergraduate degree and enter into the field of medicine.
Zea was nominated for the Music Commission's Student Spotlight by Anastasia Nellos. Stasie says of Zea, "She is a quick learner and a sponge for information. What is most amazing is that she hasn't always had an easy time with things. Her talent is raw, her understanding and comprehension is instant, but holding her inherent airy nature grounded, and reigning all of her energy into a more workable form has been a challenge sometimes. She never gives up and it showed this year when she was selected as one of two Castro Concerto Competition winners with the Albuquerque Youth Symphony. … Her humble nature and adventurous soul are going to carry her far and into very interesting places. We should be proud that Albuquerque has produced such an amazing local gem. Her path will indeed be one to follow!"
Congratulations, Zea, for being selected as a featured student musician! In addition to being inducted into the Student Spotlight, Zeawill be featured on the Music Commission's Facebook page and will receive an official certificate of recognition from the State of New Mexico.
Click here for information about the Student Musician Spotlight.
above: Zea Rose, soloist with the Albuquerque Youth Symphony, performing Rondo in g minor, Op. 94 by Antonín Dvořák. The performance was recorded November 11, 2018 at Popejoy Hall on the University of New Mexico campus by Patty Kunning of Real Image Productions, 505-363-8184.
note: Zea's biographical information, image, and video are used with written permission of her mother, Monica Corica.