Malcom Yepa ~ Walatowa (Jemez Pueblo)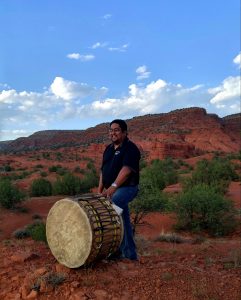 From Walatowa (Jemez Pueblo), Malcom Yepa's contribution to New Mexico's music industry is prodigious and unique. Malcom is an accomplished musician as a singer, drummer and composer both in Native American Pueblo and Powwow styles. Malcom was raised in the traditional ways of his ancestors – fluent in his Native language Towa – and is a paraprofessional educator. Malcom is recipient of the New Mexico Music Commission's 2018 Platinum Music Award.
In 1989 while in Montana, Malcom was captivated with the Powwow style of singing and drumming. Upon returning to Jemez Pueblo, he created and led the Black Eagle Powwow Drum Group. Over 28 years, Malcom led Black Eagle in a style that was new to his Pueblo People and become internationally known and admired in the North American "Powwow Circle."
Black Eagle, whose CD's are Grammy and Native American Music Award winners, have contributed to New Mexico's music industry through their original music, continuous teaching of multi-generational singers from youth to elders, as well representing New Mexico Native American music and culture.
Throughout their travels, Black Eagle have always proudly represented Jemez Pueblo and the State of New Mexico gaining the respect of the music community which led to award acknowledgments of Black Eagles' outstanding original compositions.
above: Malcom's tribute video from the 2018 Platinum Music Awards show at the Lensic. Filmed and edited by Bunee Tomlinson of Windswept Media. Produced by the New Mexico Music Commission Foundation, David Schwartz Executive Producer.