The Music Commission Announces the Passing of Commissioner George Adelo
October 24, 2017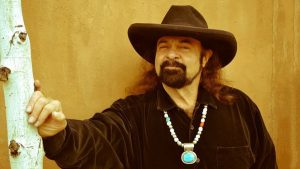 It is with our deepest sorrow that we inform you of the death of our beloved Music Commissioner George Adelo on October 23, 2017.
George E. Adelo, 64, passed away on October 23, 2017 surrounded by his loving family. He was born on April 23, 1953 to Consuelo and George Adelo. George grew up in Pecos, but worked most of his life in Santa Fe where he practiced law since being admitted into the State Bar in 1978. George helped run his family's business and always called Pecos home. George loved music, was the most amazing musician and loved playing music with his band, White Buffalo. He was an actor and had a very creative soul. His presence was large and could never go unnoticed. He was a beautiful man, husband, father and grandfather. George is preceded in death by his parents, grandfather, Samuel Adelo, uncles, Basheer Adelo, Frank Adelo, and Arcy Adelo, in laws Jose and Josephine Jacques, brothers in law, Joseph Jacques and George Shock, nephew David Rascon and special friend Jimmy Varela. George is survived by his most loving wife, Marie Adelo, his most proud children, George Adelo III (Andrea), Ben Adelo (Brandy), Amanda Adelo Padilla (Michael), the love of his life and keeper of his heart, granddaughter Paloma, special uncle, Michael Adelo, sisters in law, Diane Shock, Benny Chavez (Ben), Patsy Rascon (Franky), brother in law, Michael Jacques (Carolyn) and many nieces and nephews, cousins, aunts and uncles, and many, many friends and colleagues. Dad will be with the stars, twinkling each night, and remind us of all his beauty and light. A rosary will be recited on October 29, 2017 at 7:30 pm at St. Anne's Catholic Church and a mass of Christian burial will be celebrated at St. Anne's Catholic Church at 10:00 am on October 30, 2017 to be followed by interment to Memorial Gardens. A reception will be held after at the Bourbon Grill formally known as the Steaksmith. Pallbearers are his nephews Joseph Jacques, Joseph Rascon, Patrick Rascon, band mates, Ben Lucero, James Michael King, and close friend, Perry Barnes. Honorary Pallbearers will be John Fox, Raymond Ortiz, Patrick Casey, Tony Herunda, Jay Ritter, Leonard Romero and Jamieson Brown.
Funeral Arrangements and Memorial:
October 29, 2017
7:30pm Rosary – St. Anne's Catholic Church
511 Alicia St., Santa Fe, New Mexico 87501
October 30, 2017
10:00am Mass – St. Anne's Catholic Church
Interment (following Mass) – Santa Fe Memorial Gardens
Reception (following Interment) – Bourbon Grill
November 10, 2017
7:00pm Memorial Jam – Skylight Santa Fe
Please join us for an evening of music to celebrate the life of our dear friend George Adelo. The jam will be sign-up style. There will be a backline and house backing band. Musicians, please bring your instruments for plug and play set up (except drums and keys) and have 1-2 songs ready to go. We encourage collaborations, back up singing etc. Let's make a joyful noise for Georgie Angel!
# # #
The New Mexico Music Commission is an advisory body made up of Governor-appointed volunteers who are specialists and leaders in the state's diverse music industry. Their mission is to protect, promote, and preserve the musical traditions of New Mexico, to foster appreciation of the value of music, and to encourage the educational, creative and professional musical activities of the residents of New Mexico. The commission is administratively attached to New Mexico Arts, the State Arts agency and a division of the Department of Cultural Affairs.