Dick Bills and the Sandia Mountain Boys ~ Albuquerque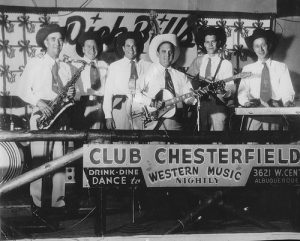 In the early 60's, before syndication took over, many of America's cities had quirky, variable-quality, but always interesting locally-produced TV shows aimed at kids.  Albuquerque, NM, was fortunate. The early 60's was a Golden Age and the city had three high-quality children's TV shows: Uncle Roy on KOAT TV-7, Captain Billy on KGGM TV-13, and Dick Bills on KOB TV-4. Dick Bills and the Sandia Mountain Boys were a regular feature on the show. His lead guitarist and nephew was a talented youth named Glen Campbell.
The band is also known as Dick Bills and His Sandia Mountain Boys.
above: Rockin' and a Rollin' – Crest Records – 1961 – Country Western Rockabilly single recorded by Dick Bills, one of America's pioneer television show hosts in Albuquerque, New Mexico. KOB Television, Channel 4.
source: vimeo.com
see also: Glen Campbell