Lewie Wickham ~ Albuquerque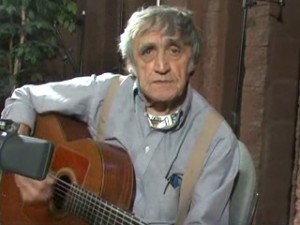 Wickham (1932-2013), beloved guitarist, singer-songwriter, and New Mexico music legend, entertained audiences for over sixty years. He started with his father's band when he was twelve years old, playing banjo on radio station WLS in Chicago in the early 1930's. The Wickham family moved to New Mexico for their father's health in 1933.  Lewie founded the Lewie Wickham Trio, with his younger brother Hank and bassist john Dagucon, in the early 1960's. He and his brother owned 'Hank and Lewie's' bar located on San Mateo Blvd. in Albuquerque during the 1970's, where they also performed. Lewie recorded with five major labels during is career. He is most remembered for his rendition of "How Come My Dog Don't Bark When You Come 'Round." Wickham has been honored with a Lifetime Achievement Award from the Governor-appointed New Mexico Music Commission.
above: Famous Guitar Player Lewie Wickham is known for his humorous novelty song lyrics like this spoof of legendary TV show Gunsmoke. His custom Guitar was hand made by Lorenzo Pimentel. There were only about three Pimentel guitars made with the Lewie Wickham eagle eye logo.
for more info: Lewie's Facebook page
source: madmusic.com