Ottmar Liebert ~ Santa Fe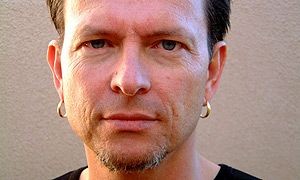 Liebert's incredible global success on a musical level often seems like a simple outgrowth of his cultural background and powerful wanderlust in his formative years. Born in Cologne, Germany to Chinese-German father and Hungarian mother, he began playing guitar at 11, and traveled extensively through Europe and Asia intent on fully absorbing each musical tradition he encountered. After pursuing his Rock and Roll dreams first in his native Germany and then in Boston, he abandoned the frustrations of the East coast and settled in Santa Fe, New Mexico in 1986, where he records to this day in his home studio. By 1989, he had founded the first incarnation of his new band Luna Negra. Nouveau Flamenco began life as a self-produced local release called Marita: Shadows and Storms, copies of which local Indian artist Frank Howell distributed in his art galleries. When the record found its way to radio stations and began generating a buzz among programmers and an unprecedented response among listeners, Higher Octave Music picked it up and released a fully remastered version.
"I was honestly happy playing this music in hotels and restaurants in Santa Fe, and going in one year from doing that to opening for Miles Davis was a pretty intense jump," he recalls. "Most shocking for me was to realize how many different people from so many diverse cultures embraced it. I still get letters from fans in Europe, South-America, Australia, and Asia…it's been a really gratifying experience. I've had the opportunity to play in a wide variety of cultural settings with musicians from around the world, and that has been a great experience, too." Liebert has since become one of the most successful instrumental artists of the past decade, thrilling audiences throughout the world and releasing a catalog of classic recordings. He was ordained as a Zen monk in 2006.
above: "Snakecharmer" by Ottmar Liebert.
for more information: ottmarliebert.com
source: ottmarliebert.com